'Night Mother
(1986)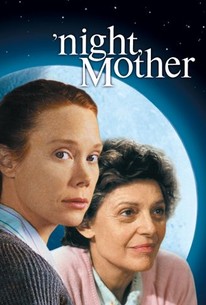 AUDIENCE SCORE
Critic Consensus: No consensus yet.
Movie Info
'Night. Mother was adapted by Marsha Norman from her own harrowing Pulitzer Prize-winning play. Outwardly normal Sissy Spacek calmly informs her mother Anne Bancroft that she's about to commit suicide. Thus the stage is set for a war of nerves between the determined Spacek and the distraught Bancroft, who uses every emotional and psychological device at her disposal to stave off the inevitable. The film's tension grows not from its plot development--we know from the outset how it's going to end--but from whether or not we're going to learn all the reasons for Spacek's decision. She's an epileptic and supremely miserable, but she always holds a little something back, prompting the viewer to lean closer to the screen in hopes of ferreting out more answers. In the original play, the outcome was never predictable; perhaps understandably, there are many who prefer the staged 'Night Mother to the screen version.
Critic Reviews for 'Night Mother
All Critics (3) | Top Critics (1) | Fresh (2) | Rotten (1)
Based on Marsha Norman's Pulitzer Prize-winning drama, it's almost a textbook example of how not to bring Broadway to the screen.
A sobering overwrought drama based on Marsha Norman's Pulitzer Prize-winning play.
Based on a Pulitzer Prize-winning play, this drama examines the complex roots of suicide.
Audience Reviews for 'Night Mother
½
Anne Bancroft and Sissy Spacek not receiving an Oscar nomination for their performances is without a doubt one of the biggest injustices in the History of Cinema, since they give their very best in this harrowing, emotionally devastating adaptation of the Pulitzer-winning play.
Carlos Magalhães
Super Reviewer
In "'night Mother," Jessie Cates(Sissy Spacek) spends her day cleaning the house she shares with her mother(Anne Bancroft). She also labels all of her clothing for various charitable organizations. Once her mother comes home, she asks her where her father's gun is before calmly telling her of her intention to kill herself that night. Sad to say, the rumored intensity of the play "'night Mother" is not on display in this filmed version that does not translate particularly well to the screen as it feels like just another made for television movie of the period. Strange as it may sound, a lot of it comes down to the casting. Both Sissy Spacek and Anne Bancroft are great actresses but their styles are so different that it transcends generations. Spacek is superb giving a very natural, matter of fact performance while Bancroft has to force herself to operate in her territory. Maybe Joanne Woodward would have been a better choice to play the mother in retrospect.
Two acting titans square off in this chamber piece of anger, laughter, disappointed hopes and despair. It's an intense workout for both and they are up to the challenge but it is a grim tale.
'Night Mother Quotes
There are no approved quotes yet for this movie.