Night of the Demons 2
(1994)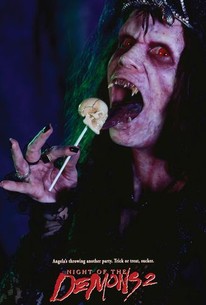 AUDIENCE SCORE
Critic Consensus: No consensus yet.
Night of the Demons 2 Photos
Movie Info
A group of teens from a Catholic school find themselves facing an unholy terror when they accidentally engineer the return of a particularly deadly she-devil.
Critic Reviews for Night of the Demons 2
All Critics (2) | Fresh (1) | Rotten (1) | DVD (1)
Director Bryan Trenchard-Smith takes Kevin Tenney's story to brand new realms and provides a sequel that's just as good as the first film. Sometimes, even better.
Really, wasn't one of these sufficient?
August 27, 2003 | Rating: 2/5
Audience Reviews for Night of the Demons 2
Well a slightly better cast for this one, the odd face is recognisable, Cristi Harris is so so damn cute in this. Its virtually the exact same plot with a new set of teenage souls to be taken but with added action and effects. To be honest the makeup and gore is really nice here in places (good old Steve Johnson still at the helm). The demons look really sweet with their drool and decapitated heads, sets are a bit neater and the finale has a really good demon/snake battle with lovely 'Dusk Till Dawn-esque' makeup and puppetry. Its basically the first one again but with added gore boobs and butts as the spooky action spills out from inside the old house this time. Thought it would be terrible but its actually alright, its all about the horror effects of course.
Phil Hubbs
Super Reviewer
Sequel to Night of the Demons is a fun and entertaining picture that has all the good elements of the first, but lacks slightly in originality. The film still has all the gore and ghouls that you'd expect, but you realize that it could have been better. Personally I feel that Kevin S. Tenney, director of the first should have directed this and this sequel could have benefited from his personal touch. Despite this, the film is amusing, and relies on the gore to compensate for the lack of original ideas on-screen. The film has all the usual horror clichés and you end not caring when the characters get knocked off due to the fact most of them are idiots and shallow and have no depth. For what it is, this is a worthwhile follow-up to the first one even if it's not perfect; it still should be seen by fans of the original. This is better than most sequels and despite all its clichés; it delivers everything you'd expect from a horror film. The plot is interesting, but lacks in some areas, and like I said, it's also its biggest flaw, as it tends to recycle a few ideas from the first. Does are mild complaints, and I found this one to be a well crafted film that if you enjoyed the first film, then you're sure to love this. The film boasts some impressive special effects and it is the film's high point along with the gore. The Night of the Demons films, are in my opinion strictly gore flicks, and the most certainly deliver in that department. A good sequel that overcomes its imperfections due to its gore. Near the ends it gets slightly silly, but it's all in good fun. If you love gore, don't pass up on this.
Once again, Angela is awesome!
Night of the Demons 2 Quotes