Night on Earth
(1991)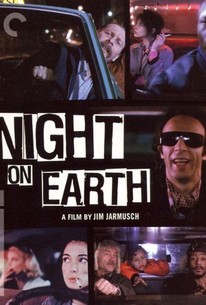 Movie Info
In this strangely compelling film, five entirely different cab rides in five locations around the world are shown unfolding simultaneously. Each ride is fraught with high drama; in one, an effusive Roman driver Roberto Benigni insists on confessing all his sexual encounters, including one with a sheep, to an extremely unwilling priest who inconveniently dies in his cab before his lengthy confession can be completed. Another story follows an encounter which puts the spunky rebel Winona Ryder in contact with the world-weary, matronly casting agent Gena Rowlands, who offers her young driver a chance to join the rich folks and become a movie star. Yet another story takes place between three drunken "celebrants" of a buddy's getting fired in snowy Helsinki, another takes place among African immigrants in Paris, and yet another takes place in New York. Each story strongly evokes a mood of time and place. Unlike most films by the experimental director Jim Jarmusch, this one enjoyed some (mild) popular as well as critical success.
Critic Reviews for Night on Earth
Audience Reviews for Night on Earth
½
I may be over inflating the rating by just a bit (maybe a half-star too many), but this movie, or better yet, collection of five related vignettes really got to be on a deep level. This ended up being the perfect movie for a stay at home dinner/movie date. The connection between the five stories is that they all take place on the same night in five different cities around the world, and each story looks at the interaction between a cabbie and their passenger(s). In the end, this becomes a connection of character studies, of life itself, and how it seems that only at night are people truly open with their words and feelings. It's quirky, funny (at times down right hilarious), and ultimately moving and heartfelt. Check this one out. Unlike Rachel Getting Married (among others), this is an indie film that doesn't suck.
Chris Weber
Super Reviewer
½
With this collection of shorts Jarmusch still has done no wrong. I especially love the first sequence with Gena Rowlands and Winona Ryder as well as the sequence with Giancarlo Esposito and Rosie Perez.
Graham Jones
Super Reviewer
½
I so don't believe Winona Ryder as a cab driver but I think that's the point.
Jennifer Xu
Super Reviewer
Night on Earth Quotes
| | |
| --- | --- |
| Corky: | Take it easy. |
| Victoria Snelling: | Sure, mom. |
| | |
| --- | --- |
| Gino: | A bishop; he weighs more like a cardinal! |
| | |
| --- | --- |
| Gino: | I shouldn't have told him about the sheep and Monica. |
| | |
| --- | --- |
| YoYo: | Helmet, that's a fucked up name. |