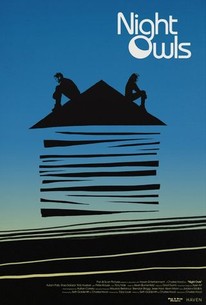 Night Owls
2015, Romance/Comedy, 1h 31m
14 Reviews
500+ Ratings
Rate And Review
Movie Info
Kevin goes home with Madeline for a drunken one-night stand and is horrified to learn she is his boss's ex-mistress. After he catches her taking a box of sleeping pills, they slowly start to fall in love as he keeps her awake all night.
News & Interviews for Night Owls
Audience Reviews for Night Owls
Realistic - to an extent - and improvy sounding practically real time comedy drama, propelled by two excellent lead performances. It's not a "Before" film (though it aspires to be), but it's always watchable and occasionally very interesting.

I remember saying often that a comedy doesn't have to be funny in order to be good, or even really good. It may be promoted as a comedy in trailers, but when you watch it it might offer something completely different. And I would classify this movie as one of those that it might not have been hilarious, but it offered so much more than that that it actually ended up being a really damn good movie with a smart and clever rom-com that does subvert the typical mainstream rom-com tropes. First things first, Adam Pally and Rosa Salazar have fantastic chemistry. Let's say everything in the film was the same, all with the lone exception of the script was lacking in character development, I'd still recommend it based on how good Adam and Rosa actually are together. And, honestly, this is, to me, a star-making performance for Rosa Salazar. I've seen her in other movies where she has bit roles, but this is, if I'm not mistaken, her first major role and she pretty much knocks it out of the park. The fact of the matter is that she perfectly conveys this character of someone who is strong and stubborn, but also someone who's clearly very vulnerable and not in the right state of mind as a result of being played around by Will, a college football coach, who also happens to be Kevin's boss, mentor and idol. Oh and the house that Kevin and Madeline had sex in was also Will's, so there's that. What I liked about the film, outside of the chemistry between Adam and Rosa, which I've already raved about, is the fact how the longer the film goes, the more you get to know about both Kevin and Madeline. You peel back those layers or that front that they put up and you get to really know both characters. What makes them they way they are, what they like, etc. Another one of the things that's really interesting about this film is how, essentially, both Kevin and Madeline were screwed over by Will. Of course, both of them got it in different ways, but they were both seduced, in some way, by Will's words and how he made them feel better about themselves. Madeline was, obviously, more of a romantic way as Will was the only one of her boyfriends that didn't make her hate herself. And Kevin as a valued and important co-worker, when, really, all he does is look at college football tapes with two other people. Not saying he doesn't contribute to the overall success of the team, but Kevin's contributions are, realistically, minimal. So, again, I thought that was a really interesting dynamic and it gives the character a lot of material to talk about, because, if you're looking for wacky, sitcom-y hijinks from this, then you're really barking up the wrong tree. This is a film that's all about the dialogue and goddamn if the dialogue isn't strong. Maybe it's a fact of Adam and Rosa elevating the material, but I thought this movie has great dialogue and really damn good character development. It's nowhere close to the perfect film, no film ever is, but I enjoyed the hell out of this movie. Its leads are fantastic and there's some actual character development in this film and not some poor attempt at it. I realize this might not be everyone's cup of tea due to its dialogue-heavy approach and lone setting, but this is a damn good movie and I'd absolutely recommend it.
See Details