Nine Queens (Nueve reinas)
(2002)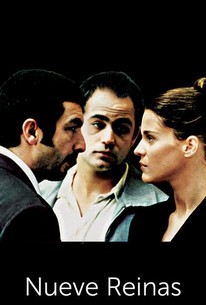 Nine Queens (Nueve reinas) Photos
Movie Info
Early one morning Juan is pulling a bill-switching scheme in an all-night deli when Marcos, an apparently innocent bystander, pretends to whisk him off to the police. But Marcos is a con artist, just helping out a new recruit, and he enlists Juan in a plot that he claims will set them up for early retirement. Juan is skeptical at first, but agrees to work with Marcos after he impresses him with a few sophisticated cons. A once-in-a-lifetime scheme then seemingly falls in their laps--an old time con man enlists Juan and Marcos to sell a forged set of extremely valuable rare stamps--The Nine Queens. The tricky negotiations that ensue bring into the picture a cast of suspicious characters including Marcos' beautiful sister Valeria, their innocent younger brother, Frederico who idolizes Marcus--as well as a slew of thieves, conmen and pickpockets. As the action moves from humble barrios to luxury hotels, it soon appears that the city itself is part of an elaborate plot.
People Who Like this movie also like
Critic Reviews for Nine Queens (Nueve reinas)
Audience Reviews for Nine Queens (Nueve reinas)
I hadn?t realised the film CRIMINAL was a re-make, of course it didn?t take me long to realise that this was the original film. I usually prefer to watch the original first, but found both equally entertaining and enjoyed both portrayals of characters in each film. Always enjoyed the ending to this one.
Lady D'arbanville
Super Reviewer
½
Guess I'm the only one here but I think the twist is dumb & almost ruins the entire movie
A wonderful stroll with two scam artists proving why there's no one else to trust in the deceitful concrete jungle. a film that will hold your breath till the last minute. superbly written, acted and staged.
Pierluigi Puccini
Super Reviewer
Nine Queens (Nueve reinas) Quotes
There are no approved quotes yet for this movie.