Ninja: Shadow of a Tear
(2013)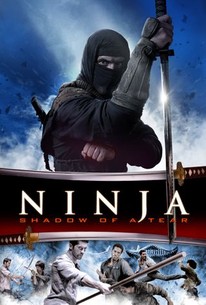 Ninja: Shadow of a Tear Photos
Movie Info
Fight everyone and trust no one: it's the code of survival practiced by martial arts master Casey Bowman (Scott Adkins) after his life of domestic bliss is shattered by a savage act of violence. With the help of his friend Nakabara (Kane Kosugi), the fearless American retrains his responses and elevates his battle skills to seek justice for his wife's murder. Casey stealthily tracks the man responsible on his mission of vengeance, but just when he has his prey cornered, an unexpected twist forces him to see even those closest to him as enemies. In the ultimate confrontation, Casey must reflect on his teachings to become an invisible warrior worthy of the title Ninja. (c) Millenium
Critic Reviews for Ninja: Shadow of a Tear
Audience Reviews for Ninja: Shadow of a Tear
The spawn of JCVD is back in action again with his own personal franchise about ninjas...well American ninjas which appear to be much better than Japanese ones according to this. The first film was pretty much a cool excuse for some ninja martial arts and weapons action from Adkins, and this sequel is no different whatsoever, but this is a good thing. A completely childish plot with unreal amounts of cliched moments and corn, but who are we kidding here its all about the fisticuffs and nothing more. And that's exactly what you get, more than last time too. Adkins wife is murdered whilst he's out buying chocolate and seaweed? so he gets mean and outta control, its time to kill EVERYONE!!!! The plot is so completely amazingly and utterly basic I simply can't find any other ways to describe it further. The whole thing is so shallow and unimaginative it hurts, they should of just called it 'Scott Adkins kicks ass for 1hour and 30minutes with no plot interference'. Some of the fights do seem to be quite obviously staged I found, mainly the indoor ones. The kicks and punches don't connect, fake looking breakable props and the fight extras clearly throw themselves around badly. But once the battles reach the open they really come into their own, there is an amazing bar fight (gotta have a bar fight) and a great 'Point Break' style chase sequence. As we reach the predictable climax the fights do get really intense, the final boss fights are a blistering montage of moves that seem to defy gravity yet are clearly real time! To be honest it becomes more a display of acrobatics rather than martial arts, you know these moves look incredible but in reality they probably wouldn't be as effective. I hate to use this terminology but this film plays out like a videogame adaptation from the days of Double Dragon. Just look at the facts, the heroes love is killed off, he then fights his way through level after level of different bad guys in various locations...bars, hotels, dojos, enemy hideout, alleyway, prison etc...Each encounter offers a tougher adversary as he gets closer to the final level and the three boss fights. One is the bosses main henchman, then the boss and then finally the predictable surprise boss in a twist ending just when you thought it was all over. Yes its horrendously cheesy and we've seen it all before, its been done by all the classic action heroes back in the day. This is the new gen of action hero and Adkins is the top dog as far as I'm concerned for Western martial artists. This guy can do the moves we never saw JCVD do, he's like a living beat 'em up videogame fighter and he's just as wooden to boot, in short the man is perfect. Everything you expected you get right here, the only thing you don't get much of is actual ninja suit clad action albeit one sequence at the end. This is what a classic back to basics action flick is all about, not the hammy action comedy 'Expendables' nonsense. Adkins has easily given us some of the best retro action homage flicks (JCVD homage flicks) in the last few years. I'd like to see him do some gritty underground Eastern set tournament fight flicks like JCVD's classic 'Bloodsport' and 'Kickboxer'.
Phil Hubbs
Super Reviewer
The best martial-arts action picture since The Raid. It's a terrifically old-school fight movie that has a the perfect blend of revenge, martial arts and suspense. It's way better than the original film, it's not as rushed and does not have a comic book feel to it. Director, Isaac Florentine crafts an ultra-stylish and explosively thrilling action classic. One of the best action movies of this era hands down. The fight sequences are so authentic and well done, they pack real punch to them and show the film makers and cast have real love and respect for the arts. A heart-pounding and adrenaline-pumping action-packed thriller that you will love if your a fan of martial arts movies. An edge of your seat thrill-ride that explodes with suspense, dazzle and sheer spectacle. It's literally an action movie knockout. Scott Adkins gives a great and gritty performance, he proves once again why he is one of the true action kings. Adkins movements are just incredible, no one moves like him and pays great tribute to the likes of Bruce Lee and Jackie Chan. It's epic action poetry in motion.
Two years ago I saw the original film simply titled "Ninja" (2009) which had solid action scenes for a low budget film, but that's where the compliments end. Nearly any film with the titled "Ninja" is guaranteed to be awful. Either being ninjas are difficult to modernized or most of the ninja titled films tend to go in a downward spiral in their writing. "Ninja: Shadow of A Tear" is one of the better ninja movies while its simple plot won't amaze a good pacing prevents the action from becoming tiresome and a better direction elevates the production sides. Ninja: Shadow of A Tear tells a basic story about Ninjitsu master Casey out for revenge when his pregnant wife is murdered. As action movies goes it's as straightforward as it could be. Wasting little time on character development, building up the villain (an evil drug lord no less), or challenging the character's morals. All of which is done in a hasty matter to advance the familiar plot threads if spend too much time on would have lead to boredom. Benefiting it's clear rehashing of plot points is good pacing. Being simple enough to follow spacing the action enough for it not to become tiresome. Allowing enough room to setup the many action scenes it has in a somewhat justifiable manner the serves the plot some purpose. In terms of characters it's filled with stock characters from the lone wolf hero, Indian accent taxi driver, the former rival, and the classical last minute villain switcheroo. The same rule also applies to the scenarios the hero is put in. You'll know the hero will fight behind a bar, get tortured, escape from a prison, go looking for hidden military base in a forest, eventually kill drug lord soldiers, and the rest action genre veteran or not can predict what'll happen next. Resembling a setup more fitting for a video game the plot won't stick to mind in any form, but if it does anything correctly aside from pacing is working towards the production team strength. Scott Adkins as an actor has little range, but thanks to the script he's mostly required to be angry, focused, and leave his martial art do the talking. Adkins just like in the previous film is a solid fighter who knows how to perform a good fight. He's agile that his fight scenes are fast performing elaborate moves that shows his skills even while wearing a Ninja suit. This being a Adkins film vehicle he's merely here to show off his fighting abilities. The cast are adequate to not ruin the film. Being aware of what roles they're playing the cast do what is required in them. Director Isaac Florentine knows how to frame an action scene and puts a bigger budget to better use. Unlike it's predecessor this sequel has night scenes that actually look like they take place at night. Also a plus is the non use of shaking cam during action scenes. Everything on the production side is as solid as it could be delivery the goods in satisfying results. Much like the story nothing will inherently stand out, but the commitment from the production team to strive for better is clear. Ninja: Shadow of A Tear is an enjoyable brainless action film and not as bad as it could have been for a film that went straight to DVD. The plot is typical and simple, but is a complemented by good pacing, solid action scenes on a low budget, and solid production values. For a film with "Ninja" in the title they're certainly worst out there, but few ninja films are as watchable even with your brain turned off.
Caesar Mendez
Super Reviewer
Ninja: Shadow of a Tear Quotes
There are no approved quotes yet for this movie.