No Subtitles Necessary: Laszlo & Vilmos
(2008)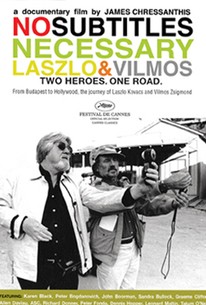 AUDIENCE SCORE
Critic Consensus: No consensus yet.
No Subtitles Necessary: Laszlo & Vilmos Videos
No Subtitles Necessary: Laszlo & Vilmos Photos
Movie Info
Laszlo Kovacs and Vilmos Zsigmond were two of the best and most influential cinematographers working in Hollywood in the Sixties and Seventies; between them, they worked with the likes of Robert Altman, Martin Scorsese, Steven Spielberg, Brian DePalma, John Boorman, Peter Bogdanovich, Hal Ashby, Peter Fonda, Dennis Hopper, and Paul Mazursky, helping shape the look of some of the most vital films of the decade and showing new ways to balance beauty and realism on screen. Surprisingly, these two master cameramen were not professional rivals, but close friends who came to the United States in 1957, fleeing their native Hungary after Soviet troops rolled into the country to put down a people's revolution (which the young cinematographers helped document with newsreel cameras). After cutting their teeth in the United States shooting a variety of low-budget projects, Kovacs enjoyed a commercial breakthrough when he shot Easy Rider in 1969, and Zsigmond made his name a few years later with McCabe and Mrs. Miller and Deliverance; the two remained close friends and colleagues, and Zsigmond remains active today, while Kovacs stayed in the film business up until his death in 2007. No Subtitles Necessary: Laszlo and Vilmos is a documentary which explores the professional and personal lives of these two gifted craftsmen, created with their cooperation; it features interviews with a number of their friends and collaborators, including Peter Fonda, Dennis Hopper, Bob Rafelson, Karen Black, Sharon Stone, Haskell Wexler and Tatum O'Neal. ~ Mark Deming, Rovi
Rating:
NR
Genre:
, ,
Directed By:
Written By:
In Theaters:
On DVD:
Runtime:
Studio:
Cast
Critic Reviews for No Subtitles Necessary: Laszlo & Vilmos
Audience Reviews for No Subtitles Necessary: Laszlo & Vilmos
½
"No Subtitles Necessary" is an insightful documentary about noted cinematographers Laszlo Kovacs and Vilmos Zsigmond who not only escaped Hungary shortly after the unsuccessful 1956 uprising but also risked their lives filming some of it for western news sources. After coming to America, they worked a series of odd jobs before going to Hollywood where they worked on a series of odd movies before hitting it big. That came in 1969, just as Hollywood was getting interesting, as their naturalistic styles became very influential over the following decade. And that's not to mention the documentary identifying the close relationship between cinematographers and actors, eloquently expressed best by Sharon Stone. Considering we already know so much about "Easy Rider," why not try to include an anecdote or two from Dennis Hopper's infamous "The Last Movie," instead? Plus, in the movie's dual format, it is tougher to separate the careers of Kovacs and Zsigmond. For example, I am still not quite sure who was supposed to be the handsome one.
I went to a screening of this film at the Hollywood Film School last night and was blown away. You must see this film if you are a true fan of cinema. It of course shows a sampling of their works which is impressive in itself, but more importantly tells the incredible backstory of two friends who escaped from Hungary to the U.S. and not only changed the style of cinematography, but heralded in independent filmmaking. The interviews in this film include Voight, Streisand, Hopper, Bullock, etc... with reverence and humor for these two men who have given so much to the art with their films and their unselfishness in teaching others the craft. I was lucky enough to meet the filmmaker and producer after the screening and was humbled by the modesty all of them had after making such an impressive and important film. I know they put a lot of work into this since it screened at Cannes, and it shows. If you want to watch a thoroughly enjoyable film in content and execution, see this film - it really does shine.
t. Howard
Discussion Forum
Discuss No Subtitles Necessary: Laszlo & Vilmos on our Movie forum!
News & Features