No
(2013)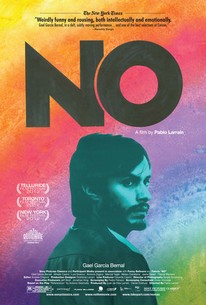 TOMATOMETER
AUDIENCE SCORE
Critic Consensus: No uses its history-driven storyline to offer a bit of smart, darkly funny perspective on modern democracy and human nature.
Movie Info
In 1988, Chilean military dictator Augusto Pinochet, due to international pressure, is forced to call a plebiscite on his presidency. The country will vote YES or NO to Pinochet extending his rule for another eight years. Opposition leaders for the NO persuade a brash young advertising executive, Rene Saavedra (Gael Garcia Bernal), to spearhead their campaign. Against all odds, with scant resources and under scrutiny by the despot's minions, Saavedra and his team devise an audacious plan to win the election and set Chile free. (c) Sony Classics
Audience Reviews for No
½
In 1988, Chilean citizens ended the rule of Augusto Pinochet after Chile's voters get inspired by a peppy ad campaign designed by an unconventional ad executive named Rene (a committed Gael Garcia Bernal) "NO" tells the story of the creation of that campaign by focusing on a message of hope and by doing that delivers a message of how humans are motivated by messages of hope vs messages of doom - a pretty timely message considering how mudslinging politics are today. As a film, "NO" relies on too many cinematic tricks to lend it its authenticity which sometimes blunt its message. The characters, except for Garcia Bernal's, are quite stock. And it is doubtful that any non-Chilean viewer can appreciate the severity of Pinochet's rule. "NO" is a good watch and is at times quite smart. But it's not the home run it thinks it is.
Tony Gandía
Super Reviewer
Never underestimate the power of media!! Of course, the makers sidelined the other efforts that too contributed equally, if not largely, in freeing Chile from Pinochet's dictatorship. The focus here is on the ad campaign, and to an extent, it's appealing. Loses steam towards the ending, though.
familiar stranger
Super Reviewer
Brilliant drama, No is one of those films that brings to light an important event in a country's history, and dramatises in order to make for a truly engrossing film going experience. The film focuses on the opposition to Chilean dictator Augusto Pinochet and how an advertising executive comes up with a campaign to remove Pinochet. The story is well paced, and the cast display some powerful performances here, and really brings the dramatic element to life. The fact that this is based on true events makes this a worthwhile viewing, and makes for a memorable drama. No is powerful cinema, and at the heart of the film is a story of impossible odds and accomplishing the impossible, which in this case was to bring hope to an oppressed population. The story is well structured and compelling. For those wanting a terrific drama to watch No is a film that you should seek out, especially for the fact that it chronicles a true event, which makes for a truly engrossing picture. With a great cast at hand, an even more powerful story, No is truly a memorable drama about fighting oppression and giving a country hope for a far better future. No is a well crafted drama that is among the finest foreign films in the last few years. Expect something memorable with this one because, the true story of these events help define a new future for an oppressed country. Brilliant in showing the struggle, optimism and ultimately determination of those involved, No is a drama that you soon won't forget, and it is a subtle, yet effective drama that works well due to the story being thought provoking and powerful.
No Quotes
| | |
| --- | --- |
| René Saavedra: | It seems to me that it's a Coca Cola commercial. |
| | |
| --- | --- |
| Urrutia: | There is a process of learnt hopelessness... |