No One Would Tell
(1996)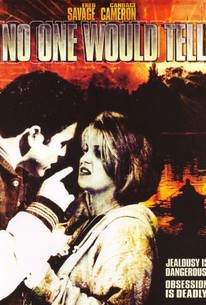 AUDIENCE SCORE
Critic Consensus: No consensus yet.
Movie Info
Teen obsession turns to violence in this gritty made-for-television drama. Child actor Fred Savage plays against type and portrays bullying Bobby Tennison, a high-school senior who dominates and intimidates his timid girlfriend Stacy Collins (Candace Cameron Bure). When their relationship turns abusive, only Stacy's friend knows the truth, and unfortunately the secrecy has tragic consequences. Talk-show host Sally Jesse Raphael appears as a judge.
Rating:
NR
Genre:
, ,
Directed By:
Written By:
In Theaters:
On DVD:
Runtime:
Studio:
RHI Entertainment
Audience Reviews for No One Would Tell
No One Would Tell is a very bad movie, but there is something that is memorable about it and in a way (A sort of sick way) I do like it and I will tell you why. I watched this is health class when my class was on boyfriend/girlfriend abuse. We watched this and I wonder if this is the best example they can show us on boyfriend girlfriend abuse. Yes this was a TV. Broadcast movie but I mean there aren't any better examples of boyfriend/girlfriend abuse? For gods sake they edited the movie wrong. There was this one scene where the girlfriend was going to take a shower, then the next scene she's out of the shower and in her room. And then a little while further in the movie, there's a random shower scene. Anyways, so we have Bobby the abusive boyfriend, then we have Stacy (that girl from Full House) the girl who is getting abused. So that's basically the plot, Oh also Stacy's mom is getting abused by her boyfriend but that's not important at all in this. I'll tell you this movie is actually really funny, when it obviously shouldn't be. When Bobby literally grabs Stacy in the Library and throws her against the bookshelf that was hilarious! I think it has to do with the characters names. Bobby and Stacy. Their performances were memorable. "Alex what do you mean by that?" Well I'll tell you that. After the class finished watching this I pretty much started calling everyone Bobby and Stacy. When someone's being mean to me I call them Bobby, when I'm being mean to someone I call them Stacy. But mostly I just mix the two names. That there is basically how the movie affected me. It affected me in the wrong way on my opinion on abuse. Is that bad, in this case no. I actually like it. I'm in gym now and I basically got the entire class to call everyone Bobby and Stacy, and I'm loving it. I should mention that the gym teacher in the movie pretty much knew Bobby threw Stacy against the wall and pretty much just ignored it so I think you can guess what the supporting characters are like. Now the performances of Bobby and Stacy were hysterical. "Hold me Stacy, were gonna be together forever, promise me that!" I know I shouldn't laugh at that, but the way Stacy says it just makes it so damn funny. "Am I a sick man for thinking this is funny?" Maybe but is it my fault the movie is like this, Nope. This movie was released (On T.V.) in 1996. Well now it's 2011 Candace (Stacy) isn't doing anything, and Fred Savage (Bobby) went on to direct Daddy Day Camp, so you can see how successful those two went on to be. No One Would Tell is a very bad movie, mostly because it's unintentionally funny (very funny in that case). But this is probably the only movie that I give a 10% with me liking it (if that makes sense). With the characters being memorable in my case, I would recommend you to go see No One Would Tell.
Alex lillquist
This movie was amazing. It makes you really think about that fact of abuse, especially abusive relationships. I think that the girl in the movie should have ended it from the first sign of abuse, but that doesn't always happen. People should have turned him in when they knew how violent he could be, but respecting their friend's wishes seemed more important, which in this case wasn't that great. Hopefully after people watch this, it will help stop situations like this from happening, because this is something that could easily happen to anyone.
Shay H
½
really creepy high school health class kinda film. Abusive boyfriend, nieve girl. This flixs twisted, so watch out. rewrites fred savages history but wierdly its not the first film ive seen him like this, idk y hes taking these really wierd "bad guy roles"
Steve Mattscheck
No One Would Tell Quotes
There are no approved quotes yet for this movie.