Nomads
(1986)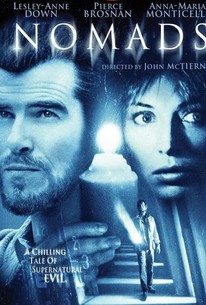 Movie Info
A French anthropologist begins researching in Los Angeles and finds that beneath the city is a strange community of evil spirits. Unfortunately, they do not take lightly to being discovered and fly off to get revenge upon him.
Rating:
R (adult situations/language, nudity, violence)
Genre:
, ,
Directed By:
Written By:
In Theaters:
On DVD:
Runtime:
Studio:
Paramount Home Video
Audience Reviews for Nomads
½
This extremely risible, effete and addlepated film was basically an audition for John McTiernan. A demo reel if you will for his next gig which was the massively popularized Predator. Arnold Schwarzenegger screened this and envisioned him as the perfect candidate for his extraterrestrial action flick. What did he see? He certainly has a cinematic eye with blue blips on the nocturnal Los Angeles skyline. Shackled in handcuffs while babbling French nonsense, Pierce Brosnan is eye-rollingly cheesy in his shellshocked hysteria and broadly nasal Inspector Clouseau accent. His escape from captivity is incompetently drenched in a slow-motion frame rate (which is the padding for most scenes) as he whispers into Dr. Eileen Flax's (Leslie-Anne Down with Virginia Madsen's poutiness) ear and dopey staging for a jump scare. From that point onward, Flax rhapsodizes about flashbacks to sociologist Jean-Charles Pommier's (Brosnan) existence before his untimely departure. The most laughably mundane is a possessed Flax reciting verbatim Pommier's conversation with a real-estate agent. It's also not a flattering portrait for hospitals. The physicians and nurses act awfully cavalier about the "lunatic" Pommier's extemporaneous death (and the staff is somehow fluent in French). To his disadvantage, McTiernan also wedges a malapropos rock-n'-roll guitar stingers and a heartbeat during the "suspense" in what should otherwise be a classy, supernatural affair. If this were a kamikaze satire on yuppie-in-danger movies, it would be a riot but sadly, McTiernan is the Claudio Fragasso who devoutly believes that leather-clad biker gangs in a blackout van are the sources for helter-skelter in the audience's nervous system. An interlude with a kindly nun doesn't decipher the cryptic, impenetrable storyline any further. While Pommier is photographing them, it degenerates into a Motley Crue music video. Seems Schwarzenegger took a monumental leap-of-faith on McTiernan because, based on this wafer-thin affidavit, he wasn't ready for the next phase.
Cory Taylor
Super Reviewer
½
Nomads (John McTiernan, 1986) [originally posted 12Dec2001] Having read Chelsea Quinn Yarbro's adaptation of this script a few months back, I was pleasantly surprised to see it crop up on a movie channel, and I sat down to give it a go. I concluded that Yarbro's above-average novel was written from the original script, not the finished product, and that some ham-handed editor had a field day with this thing between McTiernan and the big screen. I spent a few minutes being amazed that such a shabby cut-job made it to release, but then I remembered that McTiernan's second feature, Die Hard, lost almost an hour of the director's cut on initial release, too. Someone up there just doesn't like John McTiernan, even though his films have grossed something close to a billion dollars, all told. The story introduces us to Eileen Flax (Lesley-Anne Down), an ER doc who finds herself confronted with a violent nutzoid type who's on his way off this mortal coil (Pierce Brosnan). Before he dies, said nutzoid bites Dr. Flax, and in some way this causes her to relive his final days. Turns out said nutzoid is Jean-Charles Pommier, world-famous sociologist and studier of nomads, and his profession has gotten him in some rather hot water. Can Flax get herself off Pommier's track before she ends up facing the same fate he did? Read the novel before you see the movie. Whole subplots disappear. Flax's best friend goes from being one of the novel's major roles to being such a minor character in the film she's not even credited. (Not even on IMDB-that's MINOR.) If you've read the novel, you'll at least be able to figure out what's going on; otherwise, you'll probably say "what just happened?" at least ten times while trying to piece together what's left of this. Unwatchable, unless someone bothers to release a director's cut. Since it's McTiernan, that's a distinct possibility, but it doesn't exist as of this writing. * 1/2
Robert Beveridge
It's hard to imagine anyone thinking this is a great movie. I can imagine something thinking its campy, but the story line is so underdeveloped and the premise so silly that it warrants nothing more. The possession theme makes no sense: (1) Pommier is better described as obsessed rather than possessed, but the lack of any detail in the backstory makes even his obsession incomprehensible, and (2) just how HIS memories become transferred to Dr. Flax and how it's related to having to do with the urban nomads is left completely unexplained. Again, not even an attempt at providing a basis for the plot line. Given the anthropological theme as the basis for the "spooky" parts of this movie, it doesn't even rise to the level of sophomoric. The nomads are a supposed to be a tribe, that's why Pommier gets interested in them, yet they have no characteristics of a tribal society. Then they turn out to be "in reality" trickster demons, which of course as demons are anarchistic, and so NOT a tribe! Are they anarchists or a tribe? Either way the premise and backstory fall apart. Also, punks and bikers together? Really? The writers and director must have never stepped outside of the suburbs. Research is what this story needed to turn it into something at least mildly interesting.
Eddie Edwards
Nomads Quotes
There are no approved quotes yet for this movie.
Discussion Forum
Discuss Nomads on our Movie forum!