Not of This World
(2000)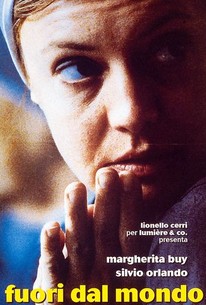 Movie Info
Fuori Dal Mondo/Not of This World tells a story about people learning to deal with their responsibilities and follow their true path in life. Caterina (Margherita Buy) is a novice nun who is soon to take her vows. One day, while taking a walk in the park, she discovers a newborn baby which has been wrapped in a sweater. While Caterina immediately turns the child over to the proper authorities, she feels compelled to find out more about the baby and its parents. A tag on the sweater leads her to Ernesto (Silvio Orlando), a mean-spirited type who operates a dry cleaning shop. Ernesto eventually admits that he may be the child's father, and, as he and Caterina get to know each other, he begins to open up and realize the importance of accepting his responsibilities. Similarly, Caterina begins to realize her desire to have a child of her own, and her growing attraction to Ernesto, may mean a life in the church may not be right for her. Meanwhile, the child's mother has to deal with her guilt and confusion, her unhappy relationship with her family, and her need to build a new and healthier life for herself. Fuori Dal Mondo/Not of This World marks the fourth collaboration between actress Margherita Buy and director Giuseppe Piccioni.
Critic Reviews for Not of This World
Audience Reviews for Not of This World
Interesting introspective character study of individuals at one of life's crossroads: "I may be unhappy with my life, there's some vague uneasiness ... yet I alone have made the choices that brought me here ... now what?" An adult movie about adulthood set when a nun finds a newborn baby abandoned in the local park.
Kevin M. Williams
Super Reviewer
Not of This World Quotes
There are no approved quotes yet for this movie.