The Oblong Box (Dance, Mephisto)
(1969)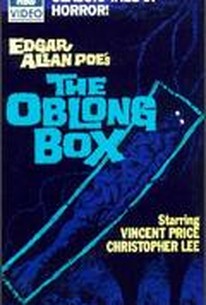 Movie Info
When Sir Edward Markham (Alastair Williamson) is horribly disfigured by African natives, he is kept chained and out of sight by his brother Julian (Vincent Price). When Sir Edward escapes, he goes on a killing spree in a desperate attempt to get even with the society that has made him a monstrous outcast. Julian enlists the help of African witch doctor N'Galo (Harry Baird) for medicine to make Sir Edward appear dead so he can be evicted from the house. Dr. Neuhardt (Christopher Lee) attempts to help the hideous human. There are plenty of female corpses around to drip rivers of fresh, hot blood in this feature, the 13th Edgar Allan Poe story in which Price has appeared. ~ Dan Pavlides, Rovi
Critic Reviews for The Oblong Box (Dance, Mephisto)
Audience Reviews for The Oblong Box (Dance, Mephisto)
½
Finally a movie with both Vincent Price and Christopher Lee! If that doesn't make you want to see this movie, what will? It's a great revenge story too, and a creepy horror movie. I loved it, and I highly recommend it.
The Oblong Box, which is not a Hammer film but feels very much like one, is lots of good things let down by a not very interesting story. The initial set up is intriguing and well done with a brother hidden from public view due to horrific disfigurement and apparent derangement - the result of an African Curse - mixed in with a botched plan involving a Doctor doing experiments on the dead, family betrayal, and age old themes of greed and evil. Unfortunately the good work done in the first half hour is undone by too much exposition and underused potential (the oblong box of the title barely figures and is little more than a plot device). What works very well are some brilliant camera techniques (interesting pans, POV shots), goodish acting from Vincent Price and Christopher Lee, and a palpable sense of period and period details. There's some uncomfortable misogyny that dates the movie to the decade it was made (and not the time in which it is set) and the violence is a little wan, but there's much to admire and the apparently troubled production of the film doesn't transfer to the screen.
Daniel Parsons
Super Reviewer
The Oblong Box (Dance, Mephisto) Quotes
There are no approved quotes yet for this movie.