The Oblong Box (Dance, Mephisto)
(1969)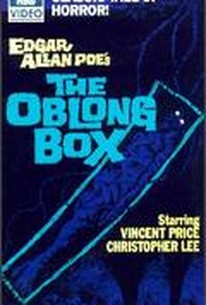 Movie Info
When Sir Edward Markham (Alastair Williamson) is horribly disfigured by African natives, he is kept chained and out of sight by his brother Julian (Vincent Price). When Sir Edward escapes, he goes on a killing spree in a desperate attempt to get even with the society that has made him a monstrous outcast. Julian enlists the help of African witch doctor N'Galo (Harry Baird) for medicine to make Sir Edward appear dead so he can be evicted from the house. Dr. Neuhardt (Christopher Lee) attempts to help the hideous human. There are plenty of female corpses around to drip rivers of fresh, hot blood in this feature, the 13th Edgar Allan Poe story in which Price has appeared. ~ Dan Pavlides, Rovi
Critic Reviews for The Oblong Box (Dance, Mephisto)
Audience Reviews for The Oblong Box (Dance, Mephisto)
½
Finally a movie with both Vincent Price and Christopher Lee! If that doesn't make you want to see this movie, what will? It's a great revenge story too, and a creepy horror movie. I loved it, and I highly recommend it.
A Hammeresque Poe adaptation that stars Vincent Price and also features Christopher Lee in a smaller role. The Oblong Box has absolutely nothing to do with Poe's story other than both feature a coffin. The Oblong Box makes Roger Corman's Poe films look like perfectly faithful Poe adaptations. Still, The Oblong Box maintains a certain Poe feel and plays like a decent but not great Hammer film. Voodoo rituals, a masked killer offing prostitutes, mistaken identity, premature burial, etc. all play a role in this ultimately forgettable but still thoroughly entertaining piece of late 60s b-level horror.
Al Miller
An entertaining enough product of its time. A perfect movie for the situations under which I saw it: as a late late night feature, with its lavish Gothic setting, over-the-top acting, and cheap gore effects.
Andrew Rosdail
The Oblong Box (Dance, Mephisto) Quotes
There are no approved quotes yet for this movie.
Discussion Forum
Discuss The Oblong Box (Dance, Mephisto) on our Movie forum!