Once
(2007)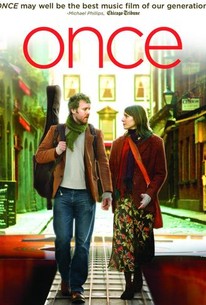 TOMATOMETER
AUDIENCE SCORE
Critic Consensus: A charming, captivating tale of love and music, Once sets the standard for the modern musical. And with Dublin as its backdrop, Once is fun and fresh.
Movie Info
"Once" is a modern-day musical set on the streets of Dublin. Featuring Glen Hansard and his Irish band The Frames, "Once" tells the story of a street musician and a Czech immigrant during an eventful week as they write, rehearse and record songs that reveal their unique love story.
People Who Like this movie also like
News & Interviews for Once
Audience Reviews for Once
This beautiful story of two musicians becoming friends (and more?) on the streets of Dublin is a little wonder of a film. Not only does it feel very fresh, natural and real, the movie doesn't even need a lot of words to make us feel for the two lovely main characters. The songs they sing do not feel out of place or forced into the scene, like in many other musicals, but as an important part. When they sing "Falling slowly" together for the first time in an instrument store it's impossible not to fall for this film. Of course it helps that the rest of the songs are just as wonderful. The sweet humor is another plus and so it feels those 95 minutes are over way too quickly, and we would have loved to follow those two around a little longer. Wonderful, touching, lovable.
John Carny knows how to direct performances and incorporate music very well, because every single scene throughout this film feels true and natural. The shaky camera in almost every scene was odd at first, but you become so used to it that it feels like it is a part of their unbalanced lives. I feel like there are so many hidden messages throughout this film that I feel the need to watch it again to find them all. The two leads are fantastic and I really bought their connection. "Once" is a very well-written romance film that is not really like your average Hollywood tale, which is why I loved watching it so much. I do not love many romance films, simply because I find it hard to believe the connection most of the time, so a film really needs to impress me with it's chemistry and dialogue. This film delivers performances and dialogue better than almost any romance I have seen in a long time. It felt very "Before Sunrise-ish" to me, and that is what sold me. "Once" is a very well put together film, the musical aspects are great and the atmosphere is vibrant. Loved every minute.
½
The original twisted musical, "Once" is full of simple beauty, small, quiet scenes, and some very inspiring music. Technically this is a musical because the characters are expressing their emotions through the medium of song. It doesn't have any of the grandeur of original movie musical. All of the songs are original, written by stars Glen Hansard and Marketa Irglova. They both play musically talented people, on guitar and piano, who bond over their love of his music. They talk mostly about music, but as Glen or "The Busker" realizes his obvious attraction and eventual love for her, they find that there are obstacles to them being together. Marketa or "The Girl" is a character that is very forthcoming, who is interesting, sweet, and intelligent, and yet she is stuck in a life as a recent immigrant and single mother. Glen, in contrast, is living off the tips he gets from playing guitar in the street, and his work at his father's vacuum cleaner repairing business. They complement each other so easily, and as the songs become more and more about the two of them and less about Glen's former girlfriend, we feel the true love between these two characters. Glen is still hung up on that former girlfriend at first, but when he falls for Marketa, it's hard and difficult and so painfully adorable. He is the definition of a lovesick puppy, and Marketa is nearly oblivious to their rendezvous and shared experiences. In the end, it's painfully clear that Marketa does love Glen, but the burden of her difficult life, and her own fear at what could be, comes between them and ultimately makes for a heartbreaking and frankly tear inducing ending. It was just so understated, so lovingly determined to show love in its earliest stages, and how two people can understand so much about music, but nothing about their own desires.
Spencer S.
Super Reviewer
Once Quotes
| | |
| --- | --- |
| The Busker: | "broken hearted Hoover fixer sucker guy" |
| The Busker: | Broken hearted Hoover fixer sucker guy. |
| | |
| --- | --- |
| Eamon: | Guys, why do you think there are no blonde priests? |
| | |
| --- | --- |
| The Girl: | Do you like this shop? I buy all my clothes here. Good for me, you know. Cheap. Nice fashion. |
| | |
| --- | --- |
| The Girl: | Fuck you, batteries! |