The One and Only, Genuine, Original Family Band
(1968)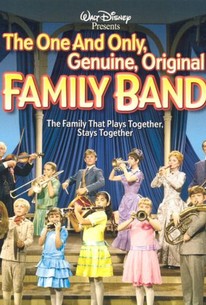 AUDIENCE SCORE
Critic Consensus: No consensus yet.
Movie Info
Set in 1888 during a Presidential election, this family-oriented Disney musical chronicles the struggle of a Dakota farmer and his musically talented family to wrangle an invite to that year's Democratic convention in cosmopolitan St. Louis. Look closely for Goldie Hawn in her first film role as a laughing chorine.
Rating:
G
Genre:
, ,
Directed By:
Written By:
In Theaters:
On DVD:
Runtime:
Studio:
Walt Disney Productions
Critic Reviews for The One and Only, Genuine, Original Family Band
There are no critic reviews yet for The One and Only, Genuine, Original Family Band. Keep checking Rotten Tomatoes for updates!
Audience Reviews for The One and Only, Genuine, Original Family Band
½
John Davidson and Lesley Ann Warren are paired up again in another outstanding Disney musical with fun songs by the Sherman Brothers. (First viewing - In my mid-twenties)
Adam R
½
***Due to the recent RT changes that have basically ruined my past reviews, I am mostly only giving a rating rather than a full review.***
Steve Smith
Never Mix Music and Politics I know I saw this movie at least once when I was a child; I remember the end. However, that was all I remember, and I kind of wish I'd remembered more of it before the election, because it raises a few valuable points. First, there is the family rule that no one shall discuss politics in the house, because one character is a staunch Democrat, and the other male in the house is a Republican. There is the fact that, no matter what position the two candidates have espoused, their supports say it's statesmanlike, and their detractors say it's politics as usual. Third, there is the notable fact that the Democrat was also a Southerner who fought for the Confederacy. He is now a passionate Union man, saying it's the thing he learned during the war, but it's yet another example of how the positions of the parties have changed since their creations over a hundred and fifty years ago. The Democrats were then the party of Southerners. The Southerner is Grandpa Bower (Walter Brennan), who never gets a first name. He's got his whole family (I'm not sure whether it's his son's or his daughter's) to form a band, and he's written a campaign song for Grover Cleveland, who is running for a second term at the Presidency. Turns out Calvin (Buddy Ebsen) is a Republican, but he doesn't think it matters to music. And indeed, instead of performing their campaign song at the Democratic National Convention in St. Louis, the family is talked into moving to "southern Dakota" by Joe Carder (John Davidson), which is not yet a state. This is in no small part because he's wooing eldest daughter Alice (Leslie Ann Warren). The family also gets caught up in the statehood debate--will the Dakotas be one state or two or remain a territory?--until the point that Katie (Janet Blair) has to insist once again on her house rule about not discussing politics, because she knows how ridiculously difficult it is to run a peaceful house if they argue politics all the time. Whenever I go to identify Leslie Ann Warren for Graham, I always tell him that she was Miss Scarlet in [i]Clue[/i]. (I doubt he's ever seen the Rogers and Hammerstein [i]Cinderella[/i], and he's unlikely to remember [i]The Happiest Millionaire[/i].) And, you know, it's quite a distinctive role. On the other hand, I always seem to have to tell him this when I'm watching a movie where she's playing the ingenue. I don't know for sure when the changeover came, but I would imagine she must have been a bit relieved. I mean, she was twenty-two when she made this and was still playing an innocent teenager, barely old enough to teach school at a time where a kid asks if the person taking over the class for a bit has "completed the eighth grade." So, no matter how quickly the change, I feel it must have been a relief, though I'm not sure she's really enjoyed playing the vamp for all the years since then. Honestly, large chunks of the story don't make a lot of sense. I'm not sure where the family starts the movie other than "far enough away so that St. Louis is a train ride." However, they are wherever-it-is not long before the national convention, so some time in midsummer, presumably. Then, they sell everything and get to the Dakotas and are all settled in before election night. Actually, several things that happen must have taken at least a month to play out. The chronology doesn't work for me, and I couldn't quite get over that. Though I suppose it's not implausible that kids might think Walter Brennan could have been a drummer boy in the Civil War, only about a quarter-century before the film is set, because kids don't always have the most clear idea of what age looks like--and it's supposed to be the day after they arrived in the territory, so most of them wouldn't have known him. And why would school start the day after the teacher arrived in the territory anyway? Maybe the following Monday would be sufficient? This is also an early appearance of young Kurt Russell as Sidney, the eldest boy. He gets almost no lines, mostly just prances about during the musical numbers with the grin of a simpleton. There's a reference at one point that confirms that character and actor are both seventeen, and that they'd thought he might consider getting his own homestead. In fact, about the only interesting thing about his appearance in the movie so far as I can tell is that it is where he met Goldie Hawn. She was actually twenty-three at the time, and they wouldn't get involved for fifteen years. However, they did seem to become friends right away, at least. This wasn't much of a role for her, either, and she doesn't even get a real name. She is "Giggly Girl," the girl Joe Carder uses to make Alice jealous at the big election to-do after she started using Ernie Stubbins (Steve Harmon) to make [i]him[/i] jealous. We know that Joe and Alice will end the movie together, but at least we have the reassurance of knowing that Sidney will get Giggly Girl.
Edith Nelson
The One and Only, Genuine, Original Family Band Quotes
There are no approved quotes yet for this movie.