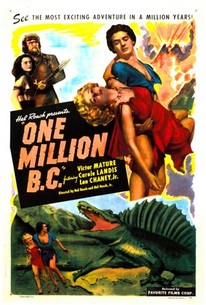 One Million B.C.
1940, Sci-fi, 1h 20m
5 Reviews
250+ Ratings
Rate And Review
Movie Info
In the survival-of-the-fittest mentality of the Rock tribe, the strongest receive the best of everything, while the scraps are left for the weak. When Tumak (Victor Mature) fails to protect what is his from the tribe's leader, Akhoba (Lon Chaney Jr.), the Rock people send Tumak into exile. Discovered by Loana (Carole Landis), a member of the peaceful Shell tribe, Tumak reluctantly joins her strangely kind people. Tumak struggles to adapt, but Loana will not give up on changing his savage ways.
Audience Reviews for One Million B.C.
One of the great adventure films ever with a simple plot of "what it must've been like living way back when" told with the by now antiquated special effects. Still it's a rousing tale told with vigor, expected to garner the wow factor from the outset, which it does. Of course it would be easy to sit back, sneer and call out the obvious inaccuracies of the story - too many to number - or even the age of the piece, but my answer to that would be "wet blanket!" or "killjoy!" What film is ever truly accurate? Huh? This is nothing but a fun work. If you can remember the eleven year old inside you, before you got to be all sophisticated and everything (with your automatic ice cube dispensing refrigerators and your French bidets!), this is as good as King Kong. Warning: Several animals were hurt in the making of this! We're talking about the 1930's here, before we were advanced enough to know better.
See Details