One-Third
(2006)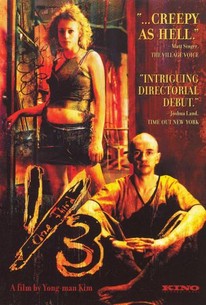 Movie Info
Director Yongman Kim draws inspiration from Dante's Inferno for this tale of a Buddhist Monk who longs to help his beautiful and troubled neighbor, but whose deliberate attempt to refuse to choose between righteousness of evil results in torturous inner conflict. Chris (Ivo Velon) makes a marginal living by sketching portraits in Washington Square Park, and attempts to maintain an optimistic mindset despite inhabiting a city that has been hopelessly corrupted by greed, poverty, and rebellion. In the center of this swirling cesspool, Chris envisions his teenage neighbor Lotusia (Diana Gitelman) as a symbol of purity. When the discovery of a hole in his wall reveals that the deeply disturbed Lotusia has suffered horrific abuse at the hands of her parents and is prostituting herself in a twisted effort to come to terms with her dire situation, Chris resists the urge to reach out to the young girl and instead meditates on the Chinese symbol "MU" -- which represents emptiness and detachment. When Lotusia accidentally kills an innocent man while attempting to exorcise her inner demons, Chris feels his morals shattered and sets out in pursuit of the frightened girl in hopes of finally providing the comfort that she so deeply desires. Despite Chris' valiant efforts, fate appears to have other, decidedly darker, plans in store for the conflicted monk and the desperate object of his affections.
Critic Reviews for One-Third
Audience Reviews for One-Third
½
[font=Century Gothic]"One Third" is a movie that takes a unique approach by trying to tell a story in this day and age with almost no dialogue. Otherwise, it is a sleazy exploitation flick masquerading as a cautionary tale in a New York City where crime is rampant(In the opening scene, there are two simultaneous robberies occurring in Washington Square Park which might be a record.) and the police are corrupt.(I don't think they got the memo but it is not that bad anymore.) Into this milieu steps an artist(Ivo Velon) who accidentally creates a hole into a neighboring apartment where a prostitute(Diana Gitelman, who has the expressive face of a silent film star) lives and occasionally entertains her customers, pleasing him enormously.[/font] [font=Century Gothic]The movie badly misfires by trying to connect sadomasochism with the need to hurt other people. In reality, it is one of many ways to give and receive pleasure and there is nothing wrong with it, along as everbody is a consenting adult and having fun.[/font] [font=Century Gothic][/font] [font=Century Gothic]And on that note, I will be out of town for a few days, returning to these pages on Sunday, March 16.[/font]
One-Third Quotes
There are no approved quotes yet for this movie.