Ong Bak 3
(2011)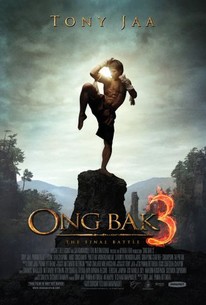 Movie Info
Martial arts legend Tony Jaa writes, directs, produces and stars in ONG BAK 3, the third and final installment in one of the most beloved action series of all time. Picking up at the cliffhanger ending where Ong Bak 2 leaves off, Jaa ramps up the epic supernatural elements of the previous film, while still maintaining the trademark bone-crunching action that the series is known for. This time he must face his ultimate enemy: a fierce supernatural warrior named "Demon Crow," played by fellow martial arts sensation Dan Chupong (Dynamite Warrior). Eagerly anticipated by martial arts aficionados for some time, the matchup of Jaa and Chupong is explosive. -- (C) Magnolia
Critic Reviews for Ong Bak 3
Audience Reviews for Ong Bak 3
½
Apparently it takes two doesn't work with Ong Bak 3 as both Tony Jaa and Panna Rittikrai can't get this film over the hump.
The 90 minute plot isn't exactly a walk in the park. The first 20 minutes can be quite erratic, as the film tries to build too much in too little time, especially when carrying over plot details from Ong Bak 2. In the middle there is a long stretch that is rather slow and uneventful, which ends up taking some of the wind out of the action packed finale.
The martial arts isn't limited per se, but it is lacking in amusement. The choreography is solid, but the reduction in speed for a good percentage of the sequences doesn't help.
Tony Jaa gets credit for the action, but not much else. Dan Chupong is quite the character, but his fights are a bit of a disappointment.
Ong Bak 3 has its ups and its downs; both come together to create just an average picture.
½
Going slightly off the beaten track with this final fight for Mr Jaa, this third film is beautiful to look at just like the second but its very unusual with a strong spiritual theme. Following on from where number two left off we see how 'Tien' (Jaa) is supposedly killed but then reincarnated and starts to train himself back to full fighting capacity so he can finish his goal. Its a huge swing from the last two films as much of this film is kind of surreal with strong Buddhist imagery, Jaa being a Buddhist monk himself this film was obviously a chance to give a peek into his religion. The film isn't overly confusing but its slightly boring for the most part and feels like it just been made with outtakes from the last film, there is also the 'Crow Ghost' character who becomes the new enemy and offers, from a Western point of view, a more fantasy based feel and does look a bit like Lee from 'The Crow'. In the end it is possible to become tired of seeing Jaa thrash countless men and that it does, the finale is 'Tien' simply kicking the crap outta so many guys it becomes silly and dull, lovely camera work and lovely stunts/moves but by this point we have seen it all before, the novelty has worn off. That is the problem with this film, it feels rushed and like it was never meant to be, its also not really required as it should of finished with the second film.
Phil Hubbs
Super Reviewer
An incredible and epic action classic. It's fast, furious and ferociously spectacular. Tony Jaa completes his journey in this stunning and final chapter to the beloved action series. The action sequences are second to none, they are amazing and will blow you away and knock you out. It's brilliant martial arts mastery that has to be seen. A breathtaking and unforgettable film. This movie has unbelievable energy that keeps your attention and your pulse pounding all the way to the end.
Ong Bak 3 Quotes
There are no approved quotes yet for this movie.