All Creatures Big and Small (Ooops! Noah is Gone...)
(2015)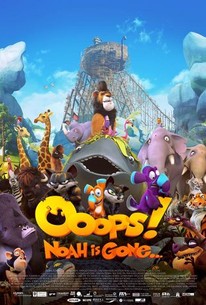 All Creatures Big and Small (Ooops! Noah is Gone...) Photos
Movie Info
It is the last big taboo in the history of the world. And it's about time we talk about it. And laugh about it. Whatever happened to the creatures that missed Noah's ark?(C) Official Facebook
News & Interviews for All Creatures Big and Small (Ooops! Noah is Gone...)
Critic Reviews for All Creatures Big and Small (Ooops! Noah is Gone...)
Audience Reviews for All Creatures Big and Small (Ooops! Noah is Gone...)
½
For a film centered around one of the most 'memorable' events in the bible, this film is surprisingly non-religious. Which is a good thing, because I hate to imagine how this film would've been like if it decided to preach to someone who doesn't believe any of that stuff. And that's the problem with these religious films, they're sort of preaching to the choir by giving them a easy to digest story that refuses to ask any questions regarding the complexities of faith. And that's fine, there's an audience for that, but it's a niche one. So this film going the non-religious route was a positive move to me, even though the English version of the film cast a christian pop artist to voice of the characters. While there's certain elements of the film that are really kiddy, this is a surprisingly decent movie. It's just that when I watch these 'unknown' CG kids' movies, there seems to be a part of them that really talks down to kids or they use too many cutesy elements and it just makes me wanna puke sometimes. Again, this movie has some of that, I won't deny it, but it's got some solid and colorful animation and the film does, legitimately, have some fun moments. The only reason Martin Sheen is even in this movie is so they can have someone with some sort of name value to a mainstream audience. And I say this because his character comprises maybe, let's say, like 15% of the movie. That might also be a generous number to be honest, he's barely in the movie, but if you look at the poster, on Amazon at least, Martin Sheen's name is the first one you see. This was clearly just a paycheck to Sheen and you can hear it from his performance. A complete contrast to his voice acting in Wrinkles. But that's neither here nor there. The voice acting isn't really what one would call great, but at least, outside of some scenes, it doesn't really seem to speak down to kids and treat them like they're stupid. I don't mean to suggest that this film, in any way, competes with Pixar's or DreamWorks' best films, but at the very least its approach resembles that more than a stupid kids' movie. This might not actually be saying a lot, but this might be one of the better movies of this type that I've seen. Which isn't saying much, of course, when I don't even think the movie is good. I think that's more of a testament to how bad some of these other films are. The House of Magic is, probably, the only good one. That I recall at this moment at least. I say it resembles more of a Pixar or DreamWorks movie, but it in no way competes with them in terms of quality and attention to detail. At least the really great ones. This film is better than Cars 2, Shark Tale or Shrek 3, which are some of the worst the genre has to offer and all were made by Pixar and DreamWorks. There's even the hand-drawn credits, which is a cliche of these films at this point. Can't really complain much about this movie, I mean it's not good, but it's a perfectly acceptable diversion. It's a good family movie if you want something harmless. Better than I would've anticipated.
Jesse Ortega
Super Reviewer
All Creatures Big and Small (Ooops! Noah is Gone...) Quotes
There are no approved quotes yet for this movie.