Or (My Treasure)
(2007)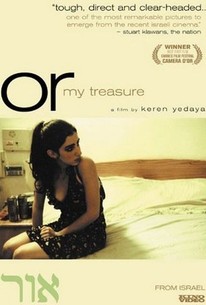 TOMATOMETER
AUDIENCE SCORE
Critic Consensus: Prostitution and its effect on a mother-daughter relationship are told in a naturalistic and nonjudgmental style, building to a powerful conclusion.
Movie Info
A girl struggles not to make the same mistakes that have tainted her mother's life in this drama from Israel. Or (Dana Ivgy) is a high-school-age girl living in a small Tel Aviv apartment with her mother Ruthie (Ronit Elkabetz). Ruthie has spent most of her life working as a prostitute, but with her health on the decline, Or has been forced to become the primary breadwinner in the household, washing dishes, cleaning an apartment building and collecting deposit bottles to help pay the rent when she's not busy with her studies. While Or has lined Ruthie up with a job as a domestic, Ruthie hates the work and finds herself drawn back into her life on the street, much to her daughter's displeasure. Meanwhile, Or has fallen in love with Ido (Meshar Cohen), a boy from her school, but Ido's mother knows what Ruthie does for a living, and doesn't approve of her son dating the daughter of a prostitute, especially as Or finds herself increasingly attracted to Ido. Or (My Treasure) was the first feature film from Israeli writer and director Keren Yedaya.
Critic Reviews for Or (My Treasure)
Audience Reviews for Or (My Treasure)
[font=Century Gothic][color=blue]"Or(My Treasure)" is a movie from Israel about teenaged Or(Dana Ivgy) and her mother Ruthie(Ronit Elkabetz). At the beginning of the movie, Or is picking up her mother at a hospital where she has been treated for depression. Due to Ruthie's problems, of which there are many, Or has taken on the duties of breadwinner for the household - collecting empty bottles for refunds in the morning; working in a neighborhood restaurant in the evening. As you can imagine, this leaves little time for school and Ruthie is not really aware what affect her behavior is having on her daughter. Or is at an age when she is starting to take control of her life and is beginning to become familiar with the opposite sex.[/color][/font] [font=Century Gothic][color=#0000ff][/color][/font] [font=Century Gothic][color=#0000ff]"Or(My Treasure)" is a worthy examination of life on the economic edge with excellent performances. But there are questions that are not answered - like how long has Ruthie been like this? Plus, there is a decision late in the movie that I just don't believe. [/color][/font] [font=Century Gothic][color=#0000ff][/color][/font] [font=Century Gothic][color=#0000ff][color=darkslategray]"The Two of Us" starts out in Nazi-occupied France in 1943, just as young Claude attempts to shoplift a toy tank or two.(He would have been better off stealing a real one...) Claude is Jewish and his father dearly wants his son to keep himself out of trouble so as not to attract undue attention. Since there is also bombing going on, the parents decide to send Claude to the country to spend time with a friend's father for safekeeping. The catch is that the old man is a virulent anti-semite and Claude cannot give away that he is Jewish.[/color][/color][/font] [font=Century Gothic][color=#0000ff][/color][/font] [font=Century Gothic][color=#0000ff][color=#2f4f4f]"The Two of Us" is a funny touching coming-of-age movie about a very serious subject. As an added plus, there is a degree of complexity surrounding the old man - he is an unapologetic bigot but he also has a heart of gold but it turns out that Claude is actually much wiser than his aged host.[/color][/color][/font] [font=Century Gothic][color=#0000ff][/color][/font] [font=Century Gothic][color=#0000ff][color=black]"The Truce" is based on Primo Levi's autobiographical telling of his journey back from Auschwitz after it has been liberated by the Soviet army to his native Italy. Along the way, he encounters various characters who are either returning to their homelands or trying to return to their old lives. [/color][/color][/font] [font=Century Gothic][color=#0000ff][/color][/font] [font=Century Gothic][color=#0000ff][color=#000000]On the plus side, "The Truce" is about a part of history that is rarely focused on - the repatriation of refugees after World War II. It is also quite nice looking. However, the movie is hardly subtle. Yes, we realize the significance of Auschwitz being liberated, so we don't need the orchestral flourishes to emphasize this.(And yes I thought the four horsemen was laying it on a bit much.) Also, John Turturro really seems like a supporting player when the movie should be about his character and he is often upstaged by Rada Serbedzija playing a rakish Greek citizen, also heading home. [/color] [/color][/font]
This movie is seriously disturbing. I don't regret watching it, but it is really sad. It is a little slow and long, and almost uneventful. You feel that the subject and theme of the movie was put there at the beginning, and not a whole lot more progresses...except the inevitable downward spiral at the very end.
Cynthia S.
Super Reviewer
What a sad film about a girl forced to grow up and take responsibility for her self-destructive mom. Or (the beautiful Dana Ivgy) not only has to take care of herself, with little help from any responsible adult, but she also tries her best to keep mother, Ruthie (the talented Ronit Elkabetz), from going back out on the streets. We do not know how old Or is, but she probably isn't the eighteen year old she claims to be. This is not pretty, exposing the underbelly of Israeli society, but it does highlight the difficulty this kid faces in pulling herself up out of poverty. Gritty and realistic depiction of a young life about to follow the path that her mother is treading.
Mark Abell
Super Reviewer
Or (My Treasure) Quotes
There are no approved quotes yet for this movie.