Orchestra Rehearsal (Prova d'orchestra)
(1979)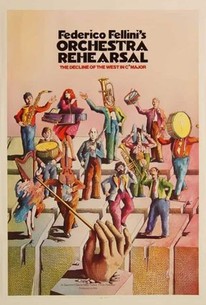 Orchestra Rehearsal (Prova d'orchestra) Photos
Movie Info
This Federico Fellini film was originally made for Italian TV. Using a symphony orchestra as a metaphor for Mankind, Fellini explores the various joys, sorrows, frustrations and triumphs of the musicians. The orchestra leader turns out to be God, making one of His rare screen appearances.
Critic Reviews for Orchestra Rehearsal (Prova d'orchestra)
Audience Reviews for Orchestra Rehearsal (Prova d'orchestra)
½
It is deliciously odd that Fellini would have a documentary crew in this unpretentious story handling an omnipresent camera that seems to be everywhere even in impossible (and invisible) moments, which gives the film a surreal vibe that goes well together with what he wants to tell.
Carlos Magalhães
Super Reviewer
½
Only 70 minutes long, "Orchestral Rehearsal" holds a unique spot in Federico Fellini's catalog. More reminiscent of Luis Buñuel than Fellini, this strange allegory occurs almost entirely within one room: the hall of an ancient church that has been re-purposed for a small orchestra's practice sessions. Popes and bishops are buried beneath its stone floor, so it's ostensibly a structure of historical import. In the opening section, Fellini's camera (pursuing a fictional television documentary) roams about the space, capturing musicians' testimonies about their chosen instruments. Typically, a player emphasizes his instrument's unique importance or personifies its character in a loving way. The musicians are mostly unassuming, homely sorts -- ordinary, working-class people rather than arty elitists. Various bits of lighthearted noodling invade the dialogue. The bassoon and trombones add comical noises. When an overweight harpist waddles across the room, others jokingly play Laurel & Hardy's trademark "Cuckoo Song." The atmosphere is loose and spontaneous. Finally, the conductor arrives and the formal practice begins. The resulting music has Nino Rota's usual carnivalesque flavor and, frankly, seems like somewhat of a rehash. (This was Rota's final collaboration with Fellini, as the composer died the following year.) The conductor -- unnamed, like everyone else -- is more of a standard type, and sternly directs players about flaws in their performances. But as he takes a break in his makeshift quarters, he laments bygone days when conductors were feared and commanded more authority. As he rambles on, the parallels with post-fascist Italy become obvious. Meanwhile, the musicians come to represent the common people, and the ensemble is often described in terms of a labor union. There is talk of the musician being freed from "a state of intolerable servility" and instead becoming "an integrated worker, conscious of his contribution to mass culture." A conflict threatens. Inevitably, the group revolts against the conductor's symbolic tyranny. This is where the film turns much more flamboyant and surreal. Anyone bored with the first half will be grateful that he stuck around. Come on, who doesn't want to see a giant metronome?
Eric Broome
Super Reviewer
Brilliant conflicts.I wouldn't have thought Fellini could actually rampage a bunch of world-class,assuming they are,musicians,engage them in sociological battleship and pinch the audience like saying"The Maestro is the Spirit,the Force of Nature..",so in order for complete rule,anarchy must initiate first!A cult pleasure like Inland Empire for Lynch.
Dimitris Springer
Super Reviewer
Orchestra Rehearsal (Prova d'orchestra) Quotes
There are no approved quotes yet for this movie.