Ouija: Origin of Evil
(2016)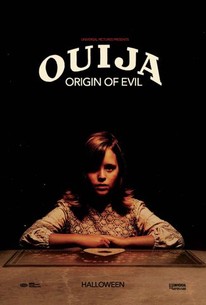 TOMATOMETER
AUDIENCE SCORE
Critic Consensus: Ouija: Origin of Evil swerves its franchise's planchette unexpectedly to YES with a surprisingly scary and dramatically satisfying follow-up to its lackluster predecessor.
Ouija: Origin of Evil Photos
Movie Info
In this horror sequel, a game of Ouija leads to supernatural activity. Annalise Basso, Henry Thomas, Doug Jones, and Elizabeth Reaser star. Directed by Mike Flanagan.
News & Interviews for Ouija: Origin of Evil
Critic Reviews for Ouija: Origin of Evil
Audience Reviews for Ouija: Origin of Evil
½
Would it be fair to say that this is one of the best horror sequels of all time? My memory is shit, but there aren't many of those in existence. Evil Dead 2, obviously comes to mind and so does Aliens. Though the latter is far more up to debate than the former. Those are the two most obvious examples of great horror sequels. But, in all honesty, when I talk about one of the best horror sequels of all time, in the context of this movie, I use it simply because of how truly, truly awful its predecessor was. I hated the original movie with a goddamn fucking passion. I felt that the concept, in and of itself, was stupid. I say that, because the reason that Hasbro Films commissioned a movie based on one of their board games, even though something like it has existed for longer than they've owned the property, is the fact that they want to sell more Ouija boards. Yet the way they go about this is attempting to scare people to the point that they wouldn't even want to buy their board game in the first place. I can understand making Battleship or GI Joe into films, since you can make a lot of money on merchandise. But I don't know how you merchandise a board that's supposed to summon spirits that will, in theory, scare the shit out of you. That's just silly to me. But they went ahead and made a sequel based on a terrible movie. And the reason I say it's one of the best horror sequels of all time isn't because this movie is great, it's actually not, at least in my opinion. But, when compared to how horrible its predecessor was, and the fact that this movie was not, in fact, dreadful, I can't help but say that it's one of the best horror sequels of all time. Again, the caveat being that this isn't what I would call a good movie, it's a only a great horror sequel when compared to what came before. I don't know why, but I never felt like the movie clicked for me as well as it did for others, at least when it comes to film critics. Don't get me wrong, the movie is a massive improvement over the original. In almost every way possible. It's got a better story, better acting and better horror. The first two are certainly the most surprising elements, at least to me. It's not that it's got a great story or anything of the sort, but it is fairly solid all things considered. I liked the fact that it focus more on a family perspective and how this family, lead by a medium who stages the seances with her daughters, copes with the loss of the father. And how buying a Ouija board opens up new avenues for them to actually to contact their deceased father and husband, in the case of the mother. It's simple, but it's fairly well-done. Of course, things start changing once the younger daughter, Doris, starts to act difference after coming into contact with the board. Strange events start happening that lead Lina, the eldest daughter, to believe that there's something more sinister at play. Alice, the mother, ignores Lina's pleas, continues to go on pretending that nothing is wrong, saying that Doris has experience something wonderful that actually allows them to help people, instead of scamming them. Those parts of the movie I enjoyed. And the acting from the lead women (Elizabeth Reaser, Lulu Wilson and Annalise Basso) is really fucking good. But, if I'm being honest, and I don't know why, I just didn't get into the characters that much. They're well-written and the performances are quite strong, but there's just something missing. Again, nothing wrong with the characters themselves, I just couldn't find myself fully invested in them. Perhaps that's because the movie doesn't go deeper, but it's not like I can say I cared for any of the characters. And, again, this is from someone who thought the characters were well-written, at least in the context of what they're trying to accomplish here. The horror was better from the first movie, it would almost have to be, but, again, it's not great horror per se. And the movie really kicks it into next gear in its third act. They give you the requisite jump scares, but they're not as plentiful. Which is a good thing. But the fact of the matter is that, outside of Doris acting creepy for about 2/3rds of it, doesn't really amount to much other than that. I'm sure that's gonna work for a lot of people, but it just doesn't to me. Not saying that once is enough, but seeing Doris do the same creepy kid stuff over and over again doesn't make for effective horror, at least in my book. You're relying on the same material too much. Don't get me wrong, Lulu Wilson (who plays Doris) does a freaking great job here. But the fact of the matter is that the creepy kid stuff can only take you so far and I wish the movie would have been a little more dynamic in its horror. In reality, I felt that this was a slightly better than average movie, if not quite a good one. I would actually give this a recommendation, because I feel most people would find this more enjoyable than I did. And, again, this is coming from someone who enjoyed a good chunk of this movie, it's just that the flaws are way too glaring to ignore. This is my 2800th review on this site, here's to 2800 more. That's all the sentimentality you get.
Jesse Ortega
Super Reviewer
½
Ouija: Origin of Evil is a solid effort in the horror genre. While it isn't the scariest film, there is great tension and story put into the movie to balance it out. The cast is great especially Lulu Wilson. The tone and theme are pretty dark for parents who may think about taking their kids to this. However, Hasbro Studios finally has a successful movie on their hands after critical flops such as Battleship and Jem and the Holograms. Luckily for them, the scares are in the film and not at the box office.
Jacob Smith
Super Reviewer
This is definitely the year for horror films. When the announcement was made that a second Ouija film was in the works, I naturally just rolled my eyes, thinking what else is knew? Well, apparently a lot. Ouija: Origin of Evil improves over its predecessor in every conceivable way. Truthfully, I have grown tired of the way horror films are made nowadays, and while there are a few great ones out there, the same cheap thrills seem to be recycled over and over again. Director Mike Flanagan (of Oculus and Hush fame) presents this film in a way that makes it feel completely distant from its predecessor, while also borrowing elements and expanding on them. I can't believe I am talking this way about a sequel to a pretty terrible horror film, but anything is possible I guess. Here is how Ouija: Origin of Evil did for Ouija, what Fast Five did for the Fast & Furious franchise. There are very few franchise that are able to build off of a story that never worked in the first place. Ouija: Origin of Evil is one of those rare films that is not only better that its predecessor, but rejuvenates the franchise into something surprisingly great, all while still telling the same basic premise. Just like the first film, this one follows a family as they explore the Ouija board game. Instead of just communicating with the dead and having no real emotional heft like the first film, this is more of a look into lost family members. Running a fortune teller business from their home, the Zander family (who had lost their father figure in the past) soon discover the Ouija board, which allows them to communicate with him. Adding just enough emotional gravitas to the premise, while significantly improving its chilling imagery, everything about this film is improved. We can all admit, at least those who have seen the original Ouija, that this franchise needed to play every card in order to win back its audience. The first act of this film worried me, as many of the tropes used throughout the first film were being repeated. It almost felt like a remake, but with much better cinematography, a classic feel, and significantly improved performances and emotional weight. For those reasons, I could already tell the second and third acts would only get better from then on. Happily, I could not have been more right. Ouija: Origin of Evil, although its story is familiar, does its thrills in the third act better than any horror film in have seen in recent years. The funny thing about that statement is the fact that you have pretty much seen every scare before, but this film is able to pull it off with ease. Chills were sent down my spine on multiple occasions. That being said, even though this film puts a spin on a classic tale, that classic tale does feel overdone a few times throughout this film. From kids/creatures crawling up walls, to generic jump scares, to religious beliefs increasing the fear in everyone in the film, Ouija: Origin of Evil does not seem to be going for anything new. Having said that, each time one of these things occur, it is done in a way that still surprises you and the family aspect enhances every single moment of this film. I was tearing up as my spine was tingling, hoping everything was going to be okay. The biggest issue with this film is that you spend the entire duration hoping for something original to happen, due to the fact that the story seems too familiar. I went from loving to disliking this film on multiple occasions, but I guarantee if you know that going in, you may just end up calling this a great horror film. When it comes to selling a horror flick to a mainstream audience, they will chuckle at any opportunity given to them. During my showing of Ouija: Origin of Evil, a few people were audibly heard laughing out loud at some of the surprises or lines of dialogue given by the little girl, played by Lulu Wilson. As the film progressed, those chuckles quickly turned into gasps and you could have heard a pin drop in the theatre. It does take about 20-30 minutes to really get into this film, but by the second and third acts you are hooked in for a very, very good horror film. With improved direction, cinematography, its classic horror feel, and performances that elevate the over-arching family dynamic, Ouija: Origin of Evil is one of the best horror films of 2016, and that is actually saying something, seeing as there have been quite a few good ones. Very solid horror film that I recommend to any fan of the genre.
Ouija: Origin of Evil Quotes
There are no approved quotes yet for this movie.
Discussion Forum
Discuss Ouija: Origin of Evil on our Movie forum!