Our Sons (Too Little, Too Late)
(1991)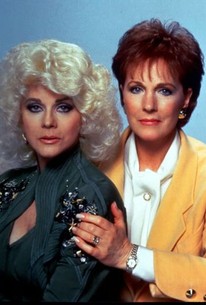 AUDIENCE SCORE
Critic Consensus: No consensus yet.
Our Sons (Too Little, Too Late) Photos
Movie Info
Julie Andrews and Ann-Margaret combine their not inconsiderable talents for Our Sons. In her TV-movie debut, Ms. Andrews plays a San Diego businesswoman and self-styled liberal whose open-mindedness is put to the test when she discovers that her son (Hugh Grant) is homosexual. This brings Andrews in reluctant contact with Ann-Margaret, a brash Arkansas cocktail waitress whose own son (Zeijko Ivanek) is Andrews' son's lover. The occasion for the meeting between the two mothers is the revelation that Ann-Margaret's son has AIDS. Andrews and Ann-Margaret go through a lengthy period of self-denial and self-blame before coming to grips with the tragedy now facing them. William Hanley's screenplay for Our Sons was supposed to spotlight the mothers, but the strong rapport between the sons throws the emphasis off at times. The director was John Erman, whose previous successful collaborations with Ann-Margaret included Who Will Love My Children and A Streetcar Named Desire.
Rating:
NR
Genre:
,
Directed By:
Written By:
On DVD:
Runtime:
Cast
Critic Reviews for Our Sons (Too Little, Too Late)
All Critics (0) | Fresh (0) | Rotten (0)
Audience Reviews for Our Sons (Too Little, Too Late)
(from The Watermark 10/02/96) This film's big claim to fame is that it's Julie Andrews' first made-for-TV movie. She plays a successful California career woman whose son, played by Hugh Grant, tells her that his lover (Zeljko Ivanek) is dying of AIDS. Grant asks Andrews if she could personally contact Ivanek's mother (Ann-Margret) in Arkansas and bring her back to see her son one last time. But Margret, who disowned her son when he came out to her, doesn't want to see him. When she does finally agree, Margret and Andrews find that they are two women of completely different backgrounds and lifestyles, yet they are bound together by the homosexuality of their children. When Margret and Ivanek finally reconcile, Andrews and Grant realize that they, too, need to confront a few issues that are marring their own relationship. The film is directed with great sensitivity by John Erman who managed to turn out a full-bodied dramatic work without a gigantic budget. It doesn't focus on the issues of AIDS as much as it focuses on the interaction of the characters. Looking like Eileen Brennan in a Dolly Parton wig, Margret is very moving as an uneducated yet outspoken white-trashy waitress. Andrews gives the best performance in the film, casting aside her usual sugary sweetness to portray a composed and sometimes icy business woman. Grant is a real surprise: he does a flawless American accent. His performance is understated, and perfectly believable as a man coping with his lover's impending death. The videocassette version makes the small mistake of editing out the "fade to black" shots originally intended for the insertion of commercials. Some of the cutaways and transitions seem premature and clumsy as a result. As the dying lover, Ivanek gets very little screen time compared to the stars, and the film could have delved deeper into his character and how the disease had affected his life. Small shortcomings aside, grab a hankie, and enjoy an oddity for the 1990's: a well-made TV movie.
David Almeida
The story is basically about a young gay couple, one of whom is played by a young Hugh Grant, trying in vain to sound like an American, even though his mother is played by Julie Andrews. Grant's lover is dying of AIDS and wants to reconcile with his estranged mother (played by a slightly over-the-top Ann Margaret in a blond wig) before he dies. So Grant sends his mother (Andrews) to Arkansas to try and convince his lover's mother, who hasn't seen her son in years to come and see her son. Naturally, being an ignorant woman, she refuses. (There's a high camp moment when Andrews slaps Ann Margaret and calls her a stupid b****.) And so the bulk of the film is about her coming to terms with what she has tried to ignore for years and make peace with her son.
Albert Schweiger
½
I thought that this movie was as average as average could be, up until the last 30 mins or so. The score was so awful, I wasn't surprised to learn that it was a made for tv movie. However, I did give it that extra half star for a couple of reasons. 1- Julie Andrews. 2- this movie was made in 1990, when AIDS was really misunderstood. I think it's absolutely a film that would have been invaluable 18 yrs ago. Not a great movie by any means, but does give us a small glimpse into the status of HIV/AIDS, how far we have come, and how much further we still have to go.
Lisa Kretschman
Discussion Forum
Discuss Our Sons (Too Little, Too Late) on our Movie forum!
News & Features