Out of Africa
(1985)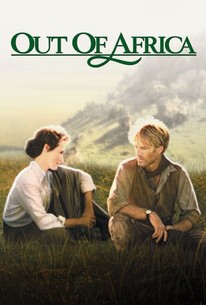 TOMATOMETER
AUDIENCE SCORE
Critic Consensus: Though lensed with stunning cinematography and featuring a pair of winning performances from Meryl Streep and Robert Redford, Out of Africa suffers from excessive length and glacial pacing.
Movie Info
Out of Africa is drawn from the life and writings of Danish author Isak Dinesen, who during the time that the film's events occured was known by her married name, Karen Blixen-Flecke. For convenience's sake, Karen (Meryl Streep) has married Baron Bor Blixen-Flecke (Klaus Maria Brandauer). In 1914, the Baron moves himself and his wife to a plantation in Nairobi, then leaves Karen to her own devices as he returns to his womanizing and drinking. Soon, Karen has fallen in love with charming white hunter Denys Finch Hatton (Robert Redford), who prefers a no-strings relationship. A woman who prides herself on her independence, Blixen finds herself unhappily in thrall to a aloof man -- and doubly unhappy for living out such a cliché situation. Although Redford received a lion's share of criticism for his too-American performance, Streep has rarely been better, and the film's perfectly measured pace is offset by David Watkin's stunning location photography. The movie was nominated for 11 Academy Awards and won 7, including Best Picture, Best Director for Sydney Pollack, Best Adapted Screenplay for Kurt Luedtke, and Best Cinematography for Watkin. ~ Hal Erickson, Rovi
People Who Like this movie also like
Critic Reviews for Out of Africa
Audience Reviews for Out of Africa
Excellent acting. This is the film I think of when I hear Klaud Maria Brandauer's name. And Maryl Streep can do no wrong. Solid performance by Redford. Beautiful film making.
Christian C
Super Reviewer
Incredible in so many ways. Full review later.
Thomas Bowler
Super Reviewer
The Academy certainly loves the Prestige Picture, don't they? This film filled that niche in 1985, and it was decided that this was the film that should take home the big awards that night. Some of them are deserved, don't get me wrong, but I think this film is just really good, and not a classic. Like many prestige pictures, it's a sweeping romantic historical epic based on actual events and various published sources. It's a lengthy movie too, which makes me wonder if all prestige pictures have to be pushing 3 hours if not longer. Thankfully that's not a requirement to win Best Picture, though many of those winners do have some long running times, sometimes unnecessarily so. This particular film, despite being a lengthy romantic historical epic is one I found myself enjoying more than I sometimes tend to with these sorts of things. It is the stroy of a Danish Baroness who, from 1914-1931 ran a coffee plantation with her philandering husband in Kenya. While there, she broke out of her shell, falling in love with both the land and a big game hunter who really showed her how to live. It's a good story, but this movie is really just a rather simple romantic melodrama that seems really special because of the wodnerful costumes, art direction, set design, landscapes, music, and cinematography. Oh yeah, and the terrific performances. If it weren't for these things, this film wouldn't be all that great. For what it is though, it is enjoyable. Meryl Streep is fantastic as always, adding another well done accent to her resume. Robert Redford is also really good, though, curiously enough, he plays a Brit who speaks with an American accent... Apparently Redford wanted to use a Brit. accent and even filmed some stuff using it, but Sydney Pollack decided that an All-American like Redford speaking with a British accent might confuse people so he had him not use it. Hmm, that's an odd decision, and not a good one either. Michael Kitchen and Klaus Maria Brandauer also give good performances, though this is mainly the Streep and Redford show. The actors playing the Africans with more substantial roles are also not bad. Many films involving Europeans in exotic places tend to carry a certain bias in their portrayal of the foreign land and people. This film is no exception, but thankfully it doesn't come off quite as pandering and typical as it could have. Here's the thing: this movie has some interesting characters and situations, but those are least least interesting parts of the movie, even though they are supposed to be. What really had me was the cinematogrpahy and the John Barry's score, even though I could detect some shades of his later score for Dances With Wolves. The film tries to put things into a historical context, but I felt they could have done more with it, and had the filmfocus less on the character romance, and more on some sort fo specific plot. I mean hell, it's set in Africa from 1914-1931. There's all sorts of great material there for a truly wonderful film. Okay, enough of that. I did like this movie, but I don't think it's truly that special. Yes, some of it is impressive, but it mostly just plays it safe and follows formula. Sometimes, that's okay, but I was really expecting more. However, I liked it enough to give it the rating I've given it, so there.
Chris Weber
Super Reviewer
Out of Africa Quotes
| | |
| --- | --- |
| Denys Finch Hatton: | I don't want to live someone else's idea of how to live. Don't ask me to do that. I don't want to find out one day that I'm at the end of someone else's life. |
| | |
| --- | --- |
| Denys Finch Hatton: | I don't want to find out one day that I'm at the end of someone else's life. |
| | |
| --- | --- |
| Denys Finch Hatton: | And what is it exactly that's yours? We're not owners here Karen, we're just passing through. |
| | |
| --- | --- |
| Denys Finch Hatton: | I don't want to find out one day that I'm at the end of someone else's life. |
Discussion Forum
Discuss Out of Africa on our Movie forum!