Overheard (Qie ting feng yun)
(2009)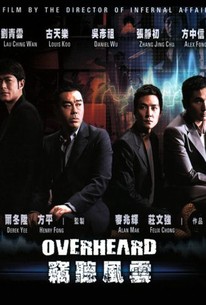 AUDIENCE SCORE
Critic Consensus: No consensus yet.
Overheard (Qie ting feng yun) Photos
Movie Info
A trio of police officers conduct surveillance on a listed company.
Critic Reviews for Overheard (Qie ting feng yun)
There are no critic reviews yet for Overheard (Qie ting feng yun). Keep checking Rotten Tomatoes for updates!
Audience Reviews for Overheard (Qie ting feng yun)
½
The key deal in the film is about information, and how it is King, and can be used as a tradable commodity from making money, to saving lives. Everyone has a price especially when you're in possession of vital, life-making or breaking, juicy insider news from stock tips to who's banging who. The movie moves at breakneck speed, and it also managed to provide that little bit of detail toward the personal lives of the main characters. The casting is something that deserves a mention, as it's one of the chief ingredients in holding the movie together, and engaging the audience's attention throughout. Lau Ching Wan is evergreen, and has so much charisma on screen, that he could have been just sweeping the road for all that matter, and still has this steely surety that with him at your side, nothing could go wrong. His big brother role to the other younger actors in Daniel Wu and Louis Koo spoke volumes as it got translated down to the story, playing the leader of the pack who decides to haul his flock out of trouble. Cinematography was excellent as well, with Hong Kong put under the romantic spotlight at times, and one of my favourites involved a montage sequence which Alan Mak & Felix Chong used to perfection in showing the drudgery, monotony and cyclic fashion of a round the clock surveillance, with fatigue and shift changes all rolled nicely into one.
Steven Vincent Gee
Super Reviewer
I liked this, i did, but up to the final act........i don't know. It seems just weak, and kills a bit of what the movie was building up to that point. The character relations, the moral dilemmas, all in favour of a flashy but empty climax. You can also feel the big shadow of mainland China and it's silly black-and-white morality sticking it's nose here. I feel the makers tried to appeal a bit too much to mainland authorities, and thus resting the overall product of a more ambitious take. I'm still giving 3 solid stars to this for the performances, the tight direction and how well written the character drama was. But as for the plot, not sure yet, i might have to give this a re-watch. All that said, this was way better than Confessions of Pain.
Tsubaki Sanjuro
Super Reviewer
½
Overheard is a Hong Kong crime thriller from Alan Mak and Felix Chong with an interesting idea to work off of.
After a good opening sequence, this film spends a bunch of time on character buildup and multiple sub-plots. The pacing is moderate, although it does feel slow at times, and this makes the sit through a little rough. It almost seems like the surveillance part of the story isn't the main point of the film.
The action is minimal. Apart from a few quick shootings and car collisions, this film relies on the story and acting to get through the 100 minute run time.
Fortunately, this picture redeems itself. All the subplots that one must endure in the first half all weave together to create an interesting final 30-40 minutes. There are also a couple twists that are satisfying when shown, despite the fact that they are quite predictable.
The stellar cast contribute to this film in a much needed positive way. Ching Wan Lau, Louis Koo, Daniel Wu, and Jingchu Zhang all step up with good performances.
Overheard may not seem like anything special in the early going; however a little patience will make it a worthwhile watch.
Overheard (Qie ting feng yun) Quotes
There are no approved quotes yet for this movie.