Overlord
(2018)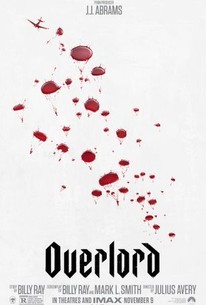 TOMATOMETER
AUDIENCE SCORE
Critic Consensus: Part revisionist war drama, part zombie thriller, and part all-out genre gorefest, Overlord offers A-level fun for B-movie fans of multiple persuasions.
Movie Info
With only hours until D-Day, a team of American paratroopers drop into Nazi-occupied France to carry out a mission that's crucial to the invasion's success. Tasked with destroying a radio transmitter atop a fortified church, the desperate soldiers join forces with a young French villager to penetrate the walls and take down the tower. But, in a mysterious Nazi lab beneath the church, the outnumbered G.I.s come face-to-face with enemies unlike any the world has ever seen. From producer J.J. Abrams, Overlord is a thrilling, pulse-pounding action adventure with a twist.
News & Interviews for Overlord
Critic Reviews for Overlord
Audience Reviews for Overlord
½
Being a FAR better and sharper popcorn movie than it had any right to be, Overlord overcomes low expectations and bad trailers to surprise the handful of moviegoers who saw it by being...ya know...good. Set during the Allied Invasion of Normandy (Operation Overlord) in June 1944, a group of American paratroopers belonging to the 101st Airborne Division land in enemy territory the night before D-Day with the intention of knocking out a radio tower. When they approach the German held village, they discover a far more insidious and supernatural threat... I've always been an easy lay for all things World War II and historical sci/fi horror, so seeing this was a foregone conclusion for me. And yes, while every critic and commentator has rushed to make connections to the Castle Wolfenstein video game series, the Dead Snow movies, and the Nazi Zombie mode attached to Call of Duty, this is a wholly different monster. For the first 40 minutes, it's a surprisingly serious and frank war film. It takes a bit of inspiration from HBO's legendary miniseries Band of Brothers (burning C-47's, mis-drops, Currahee, and the like.) And even when Overlord takes its supernatural turn, it doesn't feel out of place. Not that it means much, but it's probably the most realistic and believable Nazi Occult/Zombie flick ever made. Not one hint of exploitation or schlock, which I'm sure is what doomed the picture with horror audiences. It's directed by newcomer Julius Avery, who proves able at helming a big budget feature with many competing elements. J.J. Abrams also appears not to overstep his bounds in the producer's chair, as his widely maligned "mystery box" and forced connections to the Cloverfield franchise are not present here. Jovan Adepo proves a compelling and likable protagonist and Wyatt Russell kicks ass and channels his father effectively. Game of Thrones baddie Pilou Asbæk chews the scenery and human flesh as a deranged SS Captain whose sole mission is to build "thousand-year soldiers for the thousand-year Reich." Overlord is a well-oiled machine that blurs the line between realistic drama and escapist horror. Plenty of action and gore to be had for those looking for it. It deserves more of an audience than it received. It has my sincerest recommendation for promotion.
Joshua Sheetz
Super Reviewer
½
The movie can be quite tense and thrilling, and it is funny that, while not very bright, the main character is lucky enough to stumble on information after information by pure chance and not get killed after thirty minutes - which makes everything even more fun to watch.
Carlos Magalhães
Super Reviewer
SAVING PRIVATE RHINE - My Review of OVERLORD (2 1/2 Stars) My father volunteered to fight the Nazis in World War II as a Navigator in the Army Air Corps, including two missions on D-Day over Normandy. I say this because OVERLORD, directed by Julius Avery and written by Billy Ray (CAPTAIN PHILLIPS) and Mark L. Smith (THE REVENANT) opens on that historic day as a squad of paratroopers prepare to jump behind enemy lines to knock out a German radio tower atop a church. It's an extremely intense sequence, introducing the characters while surrounded by utter mayhem. Of course, things don't go according to plan, leaving the remains of the group with a ticking clock story - destroy the tower or the Allies will surely lose the battle. Think of it as SAVING PRIVATE RYAN except in the air and the mcguffin they seek is a thing and not a person. As such, it's a sound concept for a war movie and the execution is bracing. But then... [SPOILERS - NEXT PARAGRAPH] ...faster than you can say, "Holy Cloverfield!", producer J.J. Abrams pulls a fast one on the audience and introduces...wait for it...wait for it...ZOMBIES! Not just any zombies, but the results of Nazi experiments to create "1000 year soldiers for the 1000 year reich". In the bowels of the church, the Nazis have figured out a way to reanimate people and give them superhuman strength and a good shot at immortality. [END SPOILERS] Damn, and here I thought this was gonna be a Cloverfield origin story! If only! What we end up with is a pulpier, gorier Nazi revisionist fantasy in the INGLOURIOUS BASTERDS realm, but somehow these B-movie affectations rubbed me the wrong way here. Tarantino didn't turn his bad guys into X-Men. The Nazis did unspeakably terrible things to humanity, the likes of which we are still experiencing to this day. To suggest they had supernatural capabilities to produce monsters detracts from the fact that these were human beings committing atrocities on other humans. I was fairly offended and sat there the whole time thinking, these filmmakers know better, right? Right? If you were to separate the historical context from this fllm, however, I can see why people would find it to be a sensationally fun, action packed, David Cronenberg level of outrageously gory splatter fest. It also has a very talented cast who deliver the right amount of Hollywood verve to put across the very odd tone of it all. Let's start with Jovan Adepo, who made a mark in FENCES, and plays Boyce, the fresh recruit who has a far way to go to prove he has the right stuff. Told from his point of view, we feel every inch of his disorientation as things go from harrowing to disgustingly strange. He's matched by Wyatt Russell, who seems to be doing a spot-on imitation of his famous father in THE THING. He's the squad leader who keeps everyone focused on the mission, and he just doesn't have time for anything else. John Magaro "dems, deezes and dozes" his way through the Brooklyn guy character while Mathilde Ollivier matches the men perfectly as a not so innocent French villager with a younger brother who gets in the way at all times and a very very sick aunt upstairs. Neither problem is going to go away in this film very easily. Finally, on the villain side of things we have Pilou (Euron Greyjoy) Asbæk as your garden variety Nazi sadist/rapist/all around terrible person. Like JAWS, it takes a long long time for this film to show its cards. Just when you thought you were enjoying a war film, things start looking like THE FLY had a baby with REANIMATOR and cue body horror images for days. Ultimately, the filmmakers decided to pull the rug out from under themselves by suggesting that the rest of the world may never know what really happened. It's yet another time I groaned audibly. A shame, since I have a soft spot in my heart for these kinds of genre movies. But truth be told, I like my pulp with a little more fiction.
Glenn Gaylord
Super Reviewer
Overlord Quotes
There are no approved quotes yet for this movie.