Over-sexed Rugsuckers from Mars
(1989)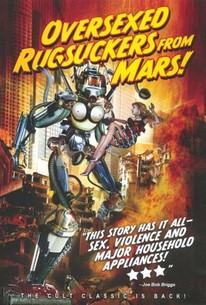 AUDIENCE SCORE
Critic Consensus: No consensus yet.
Movie Info
An advanced alien experiment unleashes an apocalyptic force of nature on planet Earth in this camp classic from writer/director Michael Paul Girard (Brief Affairs, Shadow Dancer). Ten million years ago, aliens began a fascinating experiment on planet Earth. Unfortunately mankind failed to live up to our creator's expectations. Now, in order to create a creature capable of cleaning up its own mess, the aliens have mated man with vacuum cleaner. But the alien writing the programming was completely drunk, and now the human race is under attack from a murderous machine with an insatiable sexual appetite.
Rating:
NR
Genre:
,
Directed By:
Written By:
On DVD:
Runtime:
Cast
Critic Reviews for Over-sexed Rugsuckers from Mars
There are no critic reviews yet for Over-sexed Rugsuckers from Mars. Keep checking Rotten Tomatoes for updates!
Audience Reviews for Over-sexed Rugsuckers from Mars
This is definitely one of the weirdest and strangest ideas for a movie that I have ever come across. Certainly a bizarre and off putting idea turned into a work of cinema. I don't even know where to start with a movie so absurd. The whole plot circles around a vacuum who sucks up an aphrodisiac and goes on a crazed sex rape of people, male or female. I seriously don't even know how to comment on this, the movie is about a vacuum that both kills and rapes people.. I can't even imagine what kind of drugs they must have been on to come up with an idea about a killer lusting vacuum cleaner. The way the movie is shot and in terms of quality is horrendous. It is very low budget but it does have a few good things going for it. Well two really, the overall absurdity where as it is so bad that often at times it is incredibly funny. The other good thing it has is its originality. But other than that I just don't know how to comment on this, if you are a fan of so bad they are good movies it might be in your best interest to see this one, but if not steer clear of it. To quote Joe Bob Briggs, three out of five stars!
Chad Halsman
½
I will give it props for having a semi-coherent plot that manages to resolve itself at least decently at the end. Plus there's quite a few funny/stupid moments that will keep you laughing. But beyond that, it's pretty boring. There's tons of incessant music that always randomly plays. Audio is out of whack and the continuity between shots is horrible. Overall, it's a pretty good BAD movie.
Andrew Kern
½
A near-perfect crap storm so bad that it may be hallucinogenic if watched in a single sitting. Nearly perfect in its flaws, like a manure diamond. Look, it's got poorly stop-motion animated mini-martians and a murderous sex-crazed vacuum cleaner, and a woman gives birth to a baby with the body of a dust-buster and the head and limbs of a Cabbage Patch doll in a courtroom, OK? It's horribly wonderfully awfully terrible.
Brian Seitzman
Discussion Forum
Discuss Over-sexed Rugsuckers from Mars on our Movie forum!
News & Features