Paintball
(2009)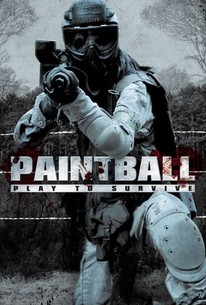 AUDIENCE SCORE
Critic Consensus: No consensus yet.
Movie Info
Eight strangers engaged in an intense game of experts-only paintball find their friendly game taking a terrifying turn when one member of the team begins playing by a different set of rules. It started as a remote raw battle of wits and wiles set against the backdrop of majestic wilderness. With each shot fired, the stakes grew higher. But something horrible has happened, and what was once a team sport has become a relentless struggle for individual survival. The danger growing by the minute, the combatants gradually come to realize that their greatest adversary may be the very game they set out to play. ~ Jason Buchanan, Rovi
Critic Reviews for Paintball
All Critics (3) | Fresh (0) | Rotten (3)
Director Benmayor doesn't help to induce the attempted suspense and terror with horrible directing, and even worse editing.
Runs out of steam long before it ends, but a few striking sequences lend it some personality. Maybe not enough to recommend it entirely, but enough to suggest Benmayor could improve greatly as a director over time.
Audience Reviews for Paintball
I feared the worst when I heard of this and saw a trailer. It looked like a really low budget, poorly acted horror film with an odd plot. Actually after watching it, I did enjoy it. It has some long sequence shots, the paintball attack near the start is pretty good, making you feel in the middle of the action. Some the actors are a bit poor, but overall this was quite an entertaining watch. It has some ideas similar to other films, and takes a last man standing take on the horror film. Made in and backed by Spanish producers and largely Spanish actors with a few English faces to boot. Considering the low budget it's a decent enough film. If you were having seconds thoughts check it out!
½
By watching this one, you definitely get all you paid for, which might not be much and far from anything original but if that is what you were after you might enjoy the ride (shall I say the hunting trip) even more. A bunch of stereotype Horror film characters (The tough girl, the cute girl, the nice guy, the fatty, the black dude etc) go on a paintball trip what turns out to be a game of life and death when a real hunter starts killing them. The film follows all basic tropes of this genre and the woods are a good backdrop for it, despite being quite open and lush at first sight, they are a prison and maze of green nothingness. The film also 'addresses' the cabin fever - intesocial conflicts which are so common to this genre and while not digging very deep does it quite well. Paintball is quite gory and you can tell that the filmmaker sat down and thought about ways to kill off people in the most grueling manner. So if you are into that sort of thing, you will most definitively enjoy this. The conclusion and ending can be smelled from a mile away and just imitate what has been done in so many other films before and kind of takes away the menace and horror and turn into a pseudo-social commentary but losing its edge on the way. All in all, this film would see more appraisal if it had been done ten years beforehand but being the blatant copy of many other films that it is, people rightfully avoid this. Unless you are a fan of the genre, like myself, steer clear of that one.
Henrik Schunk
Super Reviewer
½
Overall its a modest thriller that has some slasher conventions but contains very little blood as the murders are all seen through the killers POV and they wear a thermal imaging mask. Even with that I might have been able to appreciate this a little more if it werent for most of the cast having various accents and then they all talk over each other making it even harder to understand what the hell anyone was saying. Good idea just very underwhelming.
A.D. Villarreal
Super Reviewer
Paintball Quotes
There are no approved quotes yet for this movie.