Parrish
(1961)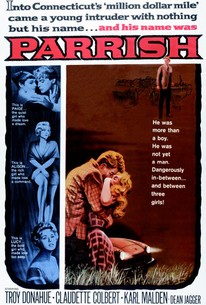 AUDIENCE SCORE
Critic Consensus: No consensus yet.
Movie Info
A scenic, tobacco-road soap opera by director Delmar Daves, known more for his westerns, Parrish features Troy Donahue in the eponymous title role. Parrish's mother Ellen (Claudette Colbert in her last movie role) happens to marry one of two competing tobacco growers in the Connecticut River Valley. Her new husband and Parrish's stepfather Judd Raike (a snarling Karl Malden) drums the tobacco business into Parrish, alienating him in the bargain. The lad is soon romancing three different women: Judd's daughter Paige (Sharon Hugeny), the daughter of Judd's arch-rival, and a wanton woman of the tobacco fields. Now all that remains is for the romance and the rivalry to shake down into the winners and losers.
Critic Reviews for Parrish
All Critics (2) | Fresh (1) | Rotten (1)
This Peyton Place meets Tobacco Road pic might be scenic, but its dialogue is risible and its dreary story line is as noxious as smoking.
A schmaltzy family melodrama starring the handsome Troy Donahue at the height of his popularity as a heartthrob.
Audience Reviews for Parrish
½
In part an homage to tobacco farming, in part a story about standing up to 'the man', and in part a love story, or perhaps better put, a story of young ladies falling all over themselves for Troy Donahue's character, a young man who has moved in to a rural farming area with his mother, played by Claudette Colbert. "Hey baby, you're good looking", "You busy tonight lover?", "Your mommy know you're out, baby?" say a couple of farm girls in one of the opening scenes, going on like a couple of construction workers and literally chasing after him. "This is my bedroom, in case you get lost", says Connie Stevens as he moves in, a few inches away from his face. "If you want me to put it on, just tap on the floor; I'll come up and do it for you any time you want", she says after rubbing calamine lotion on his bare torso when he gets a rash from tobacco poisoning. "I want desperately for you to move up here, close to me", says Diane McBain, a few scenes before surprising him in his bedroom, and offering "as Eve said to Adam, want a bite of my apple?", and later some 'alone time' in a railway car that no one will ever know about. "I'm no kid!" says Sharon Hugueny, who is also after him. In short, Donahue is getting a lot of action down on the farm in this film! Most of it is pretty silly, and during the first half of the move I found myself debating who the worse actor was, Reynolds, who is melodramatic to the extreme, or Donahue, who is mostly wooden. McBain is not much better. What keeps the movie interesting is the older actors, starting with Colbert. She's beautiful at 58, looking about 15 years younger, and plays her part with grace and nuance. It was truly wonderful to see her in what would be her last movie role - and a real shame that there was no further interest in her in Hollywood. Although she's in a supporting role, she's the real reason to watch what is otherwise a pretty obscure movie. Karl Malden plays a rich farmer who defines the type A personality, exercising his will over his family, and constantly trying to expand his holdings or find an edge. Malden is probably a little over the top in his role, but the movie gets a little more interesting as he courts and then weds Colbert, bringing her and Donahue into the family and hiring Donahue. Hampton Fancher plays one of his sniveling sons perfectly, and he and Donahue are immediate rivals. (as an aside, I found it interesting that a couple of decades later, Hampton Fancher was the co-writer of the screenplay for 'Blade Runner'...but I digress). Donahue tries to learn from Malden, but Malden is a horrible manager, yelling all the time, impatient, demanding, and micromanaging. Haven't we all had managers like that? On top of it, Donahue is conflicted by his ruthless business practices. What he really wants is to farm tobacco as it's meant to be farmed, as taught by a previous mentor, a smaller farmer played well by Dean Jagger. It's all a bit drawn out but Donahue tries to live up to an admirable code of ethics. However, the movie would have been better with better actors in the younger romantic roles, and a tightening up of the script.
Antonius Block
Super Reviewer
Overbaked melodrama with a wooden leading man. The trimmings are sumptuous but the story is trite and except for old pros Claudette Colbert, who looks great and is beautifully gowned, and Dean Jagger the acting is strictly dinner theatre quality. Karl Malden deserves special mention for offering a performance so over the top that its a wonder there was any scenery left after he gets done chewing on it.
Parrish Quotes
There are no approved quotes yet for this movie.