Particle Fever
(2014)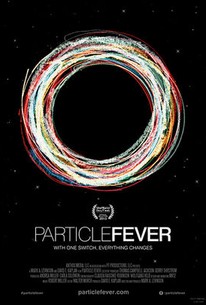 TOMATOMETER
AUDIENCE SCORE
Critic Consensus: The concepts behind its heady subject matter may fly over the heads of most viewers, but Particle Fever presents it in such a way that even the least science-inclined viewers will find themselves enraptured.
Movie Info
Imagine being able to watch as Edison turned on the first light bulb, or as Franklin received his first jolt of electricity. For the first time, a film gives audiences a front row seat to a significant and inspiring scientific breakthrough as it happens. Particle Fever follows six brilliant scientists during the launch of the Large Hadron Collider, marking the start-up of the biggest and most expensive experiment in the history of the planet, pushing the edge of human innovation. As they seek to unravel the mysteries of the universe, 10,000 scientists from over 100 countries joined forces in pursuit of a single goal: to recreate conditions that existed just moments after the Big Bang and find the Higgs boson, potentially explaining the origin of all matter. But our heroes confront an even bigger challenge: have we reached our limit in understanding why we exist? Directed by Mark Levinson, a physicist turned filmmaker, from the inspiration and initiative of producer David Kaplan and masterfully edited by Walter Murch (Apocalypse Now, The English Patient), Particle Fever is a celebration of discovery, revealing the very human stories behind this epic machine. (c) Abrorama
News & Interviews for Particle Fever
Critic Reviews for Particle Fever
Audience Reviews for Particle Fever
Science: Real science about how our galaxy, our universe is built. In making scientific progress toward understanding how the world works, these scientists show infectious excitement and explain the basics of the Large Hadron Collider in terms most of us can grasp. The graphics and variety of international interview subjects keep the film from becoming too much like a dull university lecture. Then there is the fact that these scientists remind me of the cast of The Big Bang Theory. These are the sort of personalities that those characters are based upon.
Byron Brubaker
Super Reviewer
For those like me with a background in physics and/or up to date on the subject, this doc won't offer much and will even prove to be a bit repetitious (and dull), as it wastes too much time on emotions instead of talking science, thus more recommended for the uninitiated than experts.
Carlos Magalhães
Super Reviewer
An easy to digest, simply made movie about questions that aren't so simple.
Matthew Samuel Mirliani
Super Reviewer
Particle Fever Quotes
There are no approved quotes yet for this movie.