Passion Play
(2011)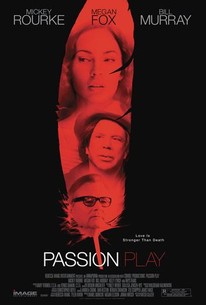 Movie Info
A terrific cast will hold you spellbound in PASSION PLAY, a one of a kind seductive thriller from Mitch Glazer, the screenwriter of The Recruit. The last thing washed-up jazz musician Nate Pool (Academy Award (R)-nominee Mickey Rourke, The Wrestler) wanted to do was betray sinister gangster Happy Shannon (Academy-Award (R)-nominee Bill Murray, Lost in Translation). But it may be the last thing he does unless he can deliver Lily (Megan Fox, Transformers), a beautiful and mysterious carnival sideshow attraction. The stakes can't get any higher for the two lovers as they try to elude the merciless killer who will stop at nothing to keep Lily for himself. Kelly Lynch (Drugstore Cowboy) and Rhys Ifans (Notting Hill) costar in this gritty and unpredictable tale of redemption in the hard-boiled tradition of classic film noir. -- (C) Image
Rating:
R (for language, some sexuality/nudity, violence and brief drug use)
Genre:
,
Directed By:
Written By:
In Theaters:
On DVD:
Box Office:
$2,100.00
Runtime:
Studio:
News & Interviews for Passion Play
Critic Reviews for Passion Play
Audience Reviews for Passion Play
½
You would think that a movie where a jazz musician (Mickey Rourke) gets in trouble with a mobster (played by Bill Murray!) and while on the lam he discovers a girl (Megan Fox) with angel wings working in a circus sideshow would be interesting. How could you go wrong with all those interesting elements? Mobsters, circus freaks, angels, Mickey Rourke! Well Passion Play found a way, a triumph of failure. This would-be parable just sleepwalks from scene to scene, rarely making much of its fantastical sci-fi elements. Fox swears she's no angel, just a girl born with bird wings, and people let this be a conversation ender. Rourke's character is a pathetic coward who nets little empathy. Not reverent or weird enough, Passion Play was the passion project of writer/director Mitch Glazer but the movie feels devoid of anything approaching passion. The actors seem bored, the romance between Fox and Rourke is a non-starter, and the lame ending borrows a page from An Occurrence at Owl Creek as a last-ditch attempt to interject some meaning into this unholy mess. The only reason I can foresee (sober) people watching this is for the mistaken belief that they might glance upon some heavenly nudity from Fox. Sorry boys, the gal keeps her purity. The entire production is just so wrong-headed and listless; I can't even work up a good dose of bile to proclaim its utter inanities. This is a terrible, silly, puzzling, dopey movie made even worse by its pseudo-intellectual twist ending. Nate's Grade: D
Nate Zoebl
Super Reviewer
½
Bill Murray playing the part of a ruthless gangster, someway I don't see that happening and it didn't in this movie. Mickey Rouke played excellent part but gets uglier as time goes on. Mickey Rourke plays a washed up trumpet player Nate, who upon the opening of the film is being taken to the desert to be killed, somehow the hit man is shot by a band of Indians. Nate stumbles upon a caravel as he wanders across the desert and discovers Lily a women with wings, is she an angle? Now the Carney people want to kill Nate, Happy Shannon wants to kill Nate so begins the story with twist and turns and is it real? I give it 3 1/2 stars
Bruce Bruce
Super Reviewer
Nate: How long have you been an angel? "Love Is Stronger Than Death" I don't really know what happened between the time I hit play and the moment the credits started to roll. I think I watched a movie, but I guess I'll never be entirely sure. As much as I like Bill Murray and respect Mickey Rourke; neither of them could save Passion Play from being a horrible movie. I'm not going to nitpick about Murray and Rourke's performance's because look at the material they were given to work with. We know that they are both quality actors. I am however going to ask why they would choose to be in this film. It makes no sense to me that actors of their quality would be involved in this. The movie is horrible for a number of reasons. One of which would be the moronic story. What the hell was that? Obviously part fairy-tale and I guess part awkward, disgusting romance. I've seen others say that the sex scene was really bad and I don't think that does it justice. It's one of the weirdest things I've ever watched and it's done poorly. Another reason the movie is horrible is because of Megan Fox's sheer presence in the film. Yes, I find her attractive to some extent, but I don't think that gives her the right to a free pass. She is one of the most unbelievable and completely garbage actresses I've ever seen. One more reason I personally found disturbing, but not a cause for the movie being terrible was just the idea of it. Rourke's character getting involved with Fox's character. I'm not even talking about the age difference. I like to think that I'm not a shallow person, but when the bitch has wings; I think that's a good place to put a line in the sand.  I saw the ending of this film coming as soon as Murray's character gets involved and it still was mind-blowing that the writer-director would do it. It's completely idiotic. The fact that this movie was made just gives me a feeling of extreme nausea. Don't let Rourke or Murray pull you into this one. If you see a copy, destroy it. 
Melvin White
Super Reviewer
Passion Play Quotes
| | |
| --- | --- |
| Lily: | I'm not an angel. I'm a bird woman. |
| | |
| --- | --- |
| Nate: | I've been around the block, but I've never seen anything like this. |
Discussion Forum
Discuss Passion Play on our Movie forum!