Patrik 1,5, (Patrik Age 1.5)
(2010)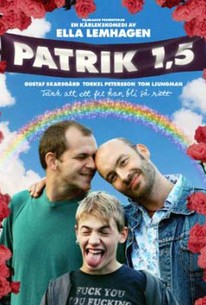 Patrik 1,5, (Patrik Age 1.5) Photos
Movie Info
Goran and Sven are the perfect gay couple; they have a beautiful house in the suburbs, a solid relationship, a home full of love and warmth. Newly approved for adoption, they believe that baby Patrik, age 1.5, is on his way. One tiny decimal mistake later, they find themselves saddled with a 15-year-old homophobe....who may have a criminal past.-- (C) Regent
Critic Reviews for Patrik 1,5, (Patrik Age 1.5)
Audience Reviews for Patrik 1,5, (Patrik Age 1.5)
A sensitive and heartwarming drama that could have been easily filled with clichés and turned into a melodrama but is wise instead to develop its story in an always believable and sincere way, relying also on two adorable performances by Skarsgård and Ljungman.
Carlos Magalhães
Super Reviewer
½
Very good movie! This surprisingly sweet and touching movie will be overlooked by the majority of viewers simply because it is a gay themed movie. Not quite a comedy, and a tad darker than a drama, this sweet Swedish movie touched my heart - and it has a happy ending, to boot.
Cynthia S.
Super Reviewer
½
"I didn't quite know what to expect with this film, but I ended up loving it. The film tells the story of a gay couple looking to adopt. They come into some trouble when no countries want to provide them with a child because of their sexual preferences. But then they get a letter saying they have been chosen to take care of Patrik which they believe to be 1 !/2 yrs. old. But soon as Patrik arrives it is obvious to the viewer but not to the couple that their was a typo when they wrote 1,5. Obviously the boy is 15 and he has already become somewhat of a criminal. This puts Sven and Garan's relationship through many things and the ending is a bit surprising. I really enjoyed the whole film. Patriks story is sad. The only thing I have a complaint about is that I wish they would have explored more on why Patrik was so terrified of going back to the institution they were wanting to send him back too. I mean for him to run away and say he would rather die then return there had to have been something horribly wrong with the place. Besides that, I loved it. Great film to see if you get the chance and can handle subtitles."
♥˩ƳИИ ƜѲѲƉƧ♥
Super Reviewer
Patrik 1,5, (Patrik Age 1.5) Quotes
There are no approved quotes yet for this movie.