Patton
(1970)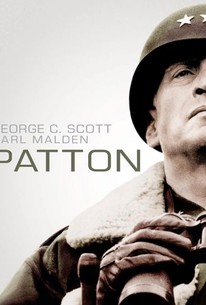 TOMATOMETER
AUDIENCE SCORE
Critic Consensus: George C. Scott's sympathetic, unflinching portrayal of the titular general in this sprawling epic is as definitive as any performance in the history of American biopics.
Movie Info
In 1943 North Africa, George Patton (George C. Scott) assumes command of (and instills some much-needed discipline in) the American forces. Engaged in battle against Germany's Field Marshal Rommel (Karl Michael Vogler), Patton drives back "The Desert Fox" by using the German's own tactics. Promoted to Lieutenant General, Patton is sent to Sicily, where he engages in a personal war of egos with British Field Marshal Montgomery (Michael Bates). Performing brilliantly in Italy, Patton seriously jeopardizes his future with a single slap. While touring an Army hospital, the General comes across a GI (Tim Considine) suffering from nervous fatigue. Incensed by what he considers a slacker, Patton smacks the poor soldier and orders him to get well in a hurry. This incident results in his losing his command-and, by extension, missing out on D-Day. In his final campaign, Patton leads the US 3rd Army through Europe. Unabashedly flamboyant, Patton remains a valuable resource, but ultimately proves too much of a "loose cannon" in comparison to the more level-headed tactics of his old friend Omar Bradley (Karl Malden). Patton won 7 Academy Awards, including Best Picture and Best Actor for Scott, an award that he refused. ~ Hal Erickson, Rovi
News & Interviews for Patton
Critic Reviews for Patton
Audience Reviews for Patton
"Patton" is the largest, most focused, and clearly unapologetic biopic of a military man, ever. It just is, whether you want to argue the scale of the production, the unmatched performance from lead actor George C. Scott, or the stretched approach to the story of his years in the Second World War, this film is incomparable. It also looks at the ugly side of war, by way of approaching its lead subject without convention. Instead of the reproachful general of lore, Patton is shown as both a man of prestige and knowledge but also a man plagued by war and grit. The layered individual is very well portrayed as both a man who understands the finer aspects of intelligentsia, but is always looking for the next battle, or really victory, over the Germans. If this film had been made forty years earlier it would have heralded the man as an abject hero, but here he is criticized, ostracized, and broken down into little pieces. He gives a speech about camaraderie and heroism at the beginning of the film, but he also finds himself plagued by controversy at his tactics, at the meaning of bravery when it comes to the loss of human life. The years covered in this film primarily deal with Patton's time around the media and his misspoken words after his many victories. George C. Scott commands the screen as the general, and though he himself was unsure he was portraying the complex figure to his advantage, he came out with a thoughtful performance. Karl Malden, who is always the perfecting choice in any supporting role, works well as Patton's subordinate and later as his boss. Their familiarity towards one another creates an understanding ally for the pariah, but also he handles him, and keeps the blow-hard in check even when Eisenhower himself doesn't believe in Patton. It's disparagingly honest, and speaks with a spirited authority that only a military biopic can. Though there's less heroism and brass than there is raw courage, it delivers on its promise to be a commanding film.
Spencer S.
Super Reviewer
An extraordinary depiction of General George Patton and his character, strategies, and flaws as a human being during the days of WWII. George C. Scott was born to play this role, and it is one of the most iconic portrayals in the history of film. It is a long, rich, rewarding journey detailing one of the most unique and fascinating members in the history of the US military. The writing is impeccable, the acting is phenomenal, and the way the story progresses feels effortless and you really start to believe you are watching a documentary on Patton just because of how well done this movie is. Not for everyone given its length, but definitely an important film that paints a vivid picture of the US military and the great leaders it continues to have over time.
Dan Schultz
Super Reviewer
'Patton' is the successful film that it is because of George C. Scott's amazing performance as the violent and vulnerable general. The action pieces are well done, the script is witty and well paced, and the film is well shot. What makes 'Patton' stand out from other war movies though is Scott's command of both the screen and the role. From first shot to last, 'Patton' is one of the greatest war films you can experience.
Kase Vollebregt
Super Reviewer
Patton Quotes
| | |
| --- | --- |
| Major Gen. Lucian K. Truscott: | I do this job because I was trained to do it... you do it because you love it! |
| | |
| --- | --- |
| George S. Patton Jr.: | Come on Willy let's go for a walk. |
| | |
| --- | --- |
| George S. Patton Jr.: | "When you put your hand, into a bunch of goo, that a moment before was your best friend's face...you'll know what to do." |
| George S. Patton Jr.: | When you put your hand, into a bunch of goo, that a moment before was your best friend's face... you'll know what to do. |
| | |
| --- | --- |
| George S. Patton Jr.: | The above quotes are all erroneous, and grievously so, except for the very first! |