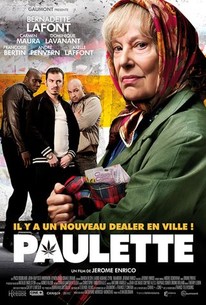 Paulette
2012, Comedy, 1h 27m
7 Reviews
250+ Ratings
Rate And Review
Movie Info
Paulette (Bernadette Lafont) becomes a cannabis dealer when her pension cannot cover her expenses.
Audience Reviews for Paulette
The run of good movies continue with this French comedy. The plot is fairly basic and straightforward. A grandmother who's struggled to keep her house and belongings finds that selling drugs, weed to be specific, earns her enough money to keep her small apartment and buy herself things that she's never had before. Kinda reminds me of a more comedic Breaking Bad. Then again, everything with drugs nowadays reminds me of Breaking Bad. I love Breaking Bad. Have I told you how much I love Breaking Bad? It still remains the best scripted television series I've had the pleasure of seeing (I just started on Game of Thrones yesterday actually). Anyway, that's neither here nor there. But the long story of it is that this is a fun little movie. The film certainly starts off strangely enough as you get to see Paulette's bigotry and racism full-on, no filter. It's something to behold and I've no idea how I actually feel about it. Because when Adam Sandler and his group of goons do it, I complain because of the fact that they just slap their own wrists and say 'I'm sowwy' like they're a little kid that got caught with his hand in the cookie jar. It's never felt like real character development, it's just gives off the basic concept of it. Sandler just wants to be an asshole about everybody without putting in any actual effort with writing a legitimate character. Paulette does say some really horrific things and her worldview is entirely retrograde but, with the way the film plays out, it feels more like they're actually trying to tell this story of how, whilst being a drug dealer, Paulette sort of finds that the people she's shit on for all of these years, the foreigners and the blacks, aren't as bad as she ignorantly proclaimed them to be. It's not like it's great character development. Racism is terrible, we all know that. But, at the very least, it feels like they're giving this character room for growth. It's not like she starts out the film one way and ends it the same way. She changes and grows and mature. Again, it's not what one would call great, but I do think that it's to the benefit of the film and its narrative. And it's not even that the narrative is that great to begin with, but it's enjoyable and it provides some funny moments. This isn't what I would call the funniest film out there, but it does manage to entertain for its brief running time. I just liked the characters and the tone of the it, it's a very French film. Which is about as obvious of a statement as one can make, but there's just something about it that you could tell it was a French movie if you watched it with the audio on mute. And it also goes without saying that Bernadette Lafont, who played Paulette, is excellent in her role. Sadly she passed away the year after this film's release, in 2013, but she's really great here. It is a solidly cast film, but Bernadette, obviously, steals the show. I don't know if I have much else to say about this, but I really enjoyed this, even if I only gave it 3 stars. It's not the most intricately plotted film out there, it's a little more viewer friendly, but it's an enjoyable movie and I'd definitely recommend it if you have Amazon Prime.
See Details