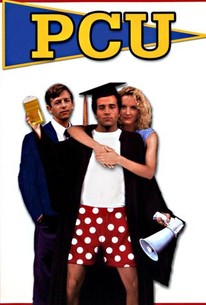 P.C.U.
1994, Comedy, 1h 19m
16 Reviews
10,000+ Ratings
Rate And Review
Movie Info
Nervous high school senior Tom Lawrence (Chris Young) visits Port Chester University, where he gets a taste of politically correct college life when he's guided by fraternity wild man Droz (Jeremy Piven) and his housemates at The Pit. But Droz and his pals have rivals in nasty preppy Rand McPherson (David Spade) and the school's steely president (Jessica Walter). With their house threatened with expulsion, Droz and company decide to throw a raging party where the various factions will collide.
Audience Reviews for P.C.U.
PCU hasn't aged that great. It is stuck in the anti liberal comedic films of the 90s and Piven barely elevates this from being anything but average. David Spade cements his weasel villain character that he portrayed in various films in the 90s. PCU just didn't connect with me like it had when I watched it on VHS all those years ago. The story-line isn't crazy enough and the idea of the story-line doesn't offer anything beyond the running time. There are better college comedy films out there but this film isn't without its fandom. The audience score doesn't reflect my opinion so if you enjoy the 90s college comedy films, this might appeal to you. 20/07/2020

This movie is often described as the Animal House of the 90s. I suppose that's true, it is very 90s, but unlike animal house it isn't very funny. This is going to be an extremely dated movie in the future, and just get less funny as time goes by. If you'd like to remember the 90s, rent this movie, if not, don't see it.

Oh <a href="http://www.flixster.com/actor/jon-favreau">Favreau</a> how you've fallen so low.

Yeah I remember a bit about this movie..especially the scene when Piven RULES BECAUSE HE'S THE FUCKING SHIT
See Details