Phantasm
(1979)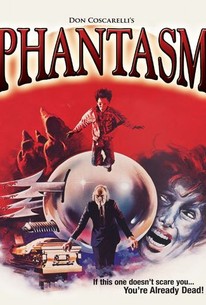 Phantasm Videos
Phantasm Photos
Movie Info
Phantasm is a surprisingly artful and imaginative horror film, an impressive film for 23-year-old director Don Coscarelli who worked with a miniscule budget to create a small masterpiece. When Mike (Michael Baldwin) spies some sinister Jawa-like creatures stealing corpses from the local cemetery, he and his older brother Jody (Bill Thornbury) explore the mausoleum, where they find that the mortician (Angus Scrimm), a towering, emaciated figure with superhuman strength, has somehow bridged the gap between Earth and the afterworld and needs fresh corpses. Among the tools of his trade is a flying Swiss army pinball that bores into the skulls of its hapless victims then extracts their brains. Their allies die off one by one, until only the brothers are left to defend humankind against the nefarious "Tall Man" and his army of shrouded dwarves. While the film does contain a fair amount of graphic violence, the gore is never gratuitous and, relative to other movies of its day, is used rather sparingly. The effects are fantastic as is the highly stylized direction; the result is a memorable chiller with more than its share of genuine shocks.
Rating:
R (adult situations/language, nudity, violence)
Genre:
,
Directed By:
Written By:
In Theaters:
On DVD:
Runtime:
Studio:
AVCO Embassy Pictures
Watch it now
Cast
News & Interviews for Phantasm
Critic Reviews for Phantasm
Audience Reviews for Phantasm
Don Coscarelli's cult classic is admittedly disjointed. It's not quite the sum of its parts, but there are many individual scenes that are wonderfully conceived and executed, some even with unexpected humour. The amateurish acting, odd transitions, and plot holes keep Phantasm from being great in my eyes, but the film is an exercise in creativity and ingenuity, not to mention in showcasing the coolest flying killing device in recent memory.
Edward Boxler
Super Reviewer
½
This 1979 Cult classic is a very interesting Horror film with many creative ideas on-screen; Phantasm is a brilliantly constructed piece of work that is sure to please the true horror fan. What makes this a wonderful, terrifying and memorable experience is that it introduces a unique horror villain, a Mortician with strange powers by the name of The Tall Man. This sinister being collects bodies and shrinks them down to dwarves and makes them his slave in another dimension. This is a work of Sci Fi and supernatural horror. While watching this movie, you realize all the elements that director Don Coscarelli uses to enrich his film's plot, therefore Phantasm branches in a few horror genres, most notably the ones that I've just mentioned. This is an effective chiller that does generate plenty of eerie moments due to the films atmosphere and memorable theme by composers Fred Myrow and Malcolm Seagrave. The performances are great and every actor brings something wonderful to the film. I view this film as one of the defining movies that helped reshape the face of terror. This is a classic, and rewatching it years later, you can see why genre fans call it a favorite. Don Coscarelli adds enough supernatural overtones to keep viewers wide eyed from start to finish. This is one feature that no one should pass up. Angus Scrimm delivers as The Tall Man and introduced us to a memorable horror quote: "BOOOYYYYY!!" This is from a horror enthusiast's perspective, a terrific and creepy line. There's enough gore, spooks and other surprises that are very well constructed by director Don Coscarelli to make this one stand out among other horror yarns that have come before and after. A lack of logic is permitted throughout the film because it's such a unique film that you simply don't care. The sequels add to The Tall Man's story, but never do anything new. However, they're just like this one, very entertaining and worth seeing.
½
One of my favourite horror movies of the 70s, it's a surreal supernatural film with a surprising twist at the end. I loved it.
Discussion Forum
Discuss Phantasm on our Movie forum!
News & Features