Plan B
(2009)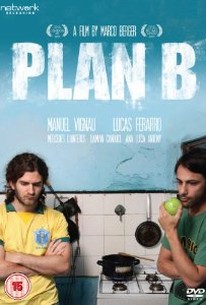 AUDIENCE SCORE
Critic Consensus: No consensus yet.
Movie Info
A man wants to turn his ex against her new lover, but the relationship between these three people takes a detour none of them expected in this comedy-drama from Argentina. Bruno (Manuel Vignau) is a sloppy and lackadaisical guy who has been dating Laura (Mercedes Quintero) for a while. Laura has grown tired of their relationship, and tells Bruno that she wants to date someone else. While Bruno feigns a casual attitude over this news, inside he's crushed, and when it becomes evident that though they may still be friends, Laura has clearly chosen good-looking Pablo (Lucas Ferraro) as her new lover, he sets out to destroy their budding romance. Bruno's scheme is two-fold -- he'll befriend Pablo while spreading rumors about him that are certain to get back to Laura. However, Bruno finds that he gets along with Pablo far better than he expected, so much so that his feelings for him start moving in a direction he never anticipated. Plan B was the first feature film from director Marco Berger. ~ Mark Deming, Rovi
Critic Reviews for Plan B
There are no critic reviews yet for Plan B. Keep checking Rotten Tomatoes for updates!
Audience Reviews for Plan B
What a sensitive and deeply moving film, hypnotizing from start to finish. The two male leads, especially Lucas Ferraro, are fantastic and they display an enormous chemistry together, making everything onscreen seem absolutely natural - which also benefits from a careful, more than appropriate slow pace.
Carlos Magalhães
Super Reviewer
½
"Plan B" is an auspicious debut from Argentinian filmmaker Marco Berger. It never received an Amercian theatrical release, but it's now available on DVD/streaming from Netflix. (God bless Netflix.) It's not a great film, but it has special aspects. It indicates that Berger could become a major cineaste in the decade ahead. The subject matter is somewhat predictable. But in his exploration of it, Berger taps into some deep pockets of feeling inside his male characters. (There's not one meaningful female character in the story.) Berger also shows real magic in his ability to coach actors. Lucas Ferraro, who's done a fair amount of Latin American television, and first-time actor Manuel Vignau, do some really touching, fully rounded work under Berger's guidance. The story is easy to summarize. (That's one of the problems with the movie.) Guy No.1 loses his girlfriend, and she starts dating Guy No.2. Guy No.1 becomes jealous of Guy No.2 and for some reason wants to meet him. He even becomes slightly obsessed with the idea. The two guys meet, unbeknownst to the woman. They become close friends almost immediately, smoking pot and crashing at each other's apartment often. Bromance gradually takes on a bit of romantic and erotic longing, freaking both of them out. But they're open-minded and non-homophobic enough to try not to suppress their feelings. The central drama surrounds what they're going to do about this and whether they have the guts to admit it to each other and/or act on it. Bromance almost always brings up slight romantic and erotic feelings. There's nothing new about that. What's new is that artists all over the world are starting to explore it with more seriousness. Straight men are also becoming less frightened of exploring it. This is good for the species. -- unfinished --
William Dunmyer
Super Reviewer
The synopsis may sound like a thousand bad indie films with a GLBT slant, but Plan B is truly something special. Beautifully shot and with two utterly natural performances from Manuel Vignau and Lucas Ferraro, the film is perceptive, truthful, cliché free and does not fall into the traps of 'gay wish fulfilment', and never condescends or preaches. This is a film to treasure; moving, uplifting and finally deservedly optimistic. Punches are not pulled, the ending doesn't cop out. Recalls the likes of Y Tu Mamá También for its timelessness and emotional complexity, Plan B is a film I wish I could live in.
Daniel Parsons
Super Reviewer
Plan B Quotes
There are no approved quotes yet for this movie.
Discussion Forum
Discuss Plan B on our Movie forum!