Zhantai (Platform)
(2000)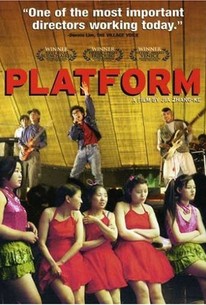 Zhantai (Platform) Photos
Movie Info
The political and social changes that swept China during the 1980s are reflected in the lives of a troupe of musicians in this drama from acclaimed Chinese director Jia Zhang-ke. In 1979, China is beginning to reinvent itself in the wake of the Cultural Revolution, and change is slowly but surely coming to Fenyang, a small town in the Shanxi province. The influences of the West (pop music, longer hair for men, television, privatization) and the adoption of more modern social conventions (birth control, co-habitation, the abandonment of the arranged marriage) begin to slowly manifest themselves in Fenyang, and two young people, Minliang (Wang Hong-wei) and Chang Jun (Liang Jing-dong), find their own lives beginning to change. Chang Jun becomes involved with Zhong Pin (Yang Tian-yi), and they decide to move in together, which is still against the law and earns them the enmity of their parents. Minliang, meanwhile, openly declares his affections to Ruijuan (Zhao Tao), who finds her own feelings about him carrying greater weight than her father's stern objections. The times also change for the musical group , as they shift from the state-sanctioned political material that had been their staple to Westernized pop music, but they find themselves in a no-man's-land, as there is little audience for either their old repertoire or their new material. Zhantai received its world premiere at the 2000 Venice Film Festival. ~ Mark Deming, Rovi
Critic Reviews for Zhantai (Platform)
Audience Reviews for Zhantai (Platform)
Great bit of story telling from Zhang Ke Jia. It is a depiction of China in a moment of transition moving from Mao to the free market beliefs of his successors. Through the eyes of a theatre troupe, it is compelling film making.
John Ballantine
Super Reviewer
½
Ok, I get it..but i had to endure 3 hours of my life watching this!!! Slower than thick syrup, this film drags and is acted with minimal flair--- there is very little character development, and most of the film is either someone smoking or long shots of the surroundings...the story supposedly covers about 11 years, but the pacing makes it seem like a couple generations. In my opinion this film is not worth all the praise it has received--- it does not entertain, and the message it conveys could have been delivered in a film half the time with greater effect. See 'luxury car' or 'lost in beijing' and you will pretty much get the same benefit, and enjoy watching the movie in the process:)
Flamboyant project by a modernist of the Chinese avant-garde.Epic in scale and thrilling in craving proportions,I present you the end of youth,the ostentatuous pop art and the remnants.Yes,it can happen in the best of families.
Dimitris Springer
Super Reviewer
Zhantai (Platform) Quotes
There are no approved quotes yet for this movie.