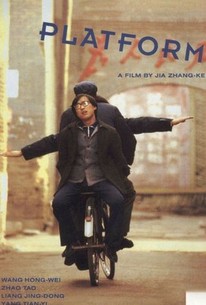 Platform
2000, Drama, 2h 34m
20 Reviews
1,000+ Ratings
Rate And Review
Movie Info
A group of friends experiences social, political and cultural changes in China from 1979 to 1989.
Audience Reviews for Platform
Great bit of story telling from Zhang Ke Jia. It is a depiction of China in a moment of transition moving from Mao to the free market beliefs of his successors. Through the eyes of a theatre troupe, it is compelling film making.

Ok, I get it..but i had to endure 3 hours of my life watching this!!! Slower than thick syrup, this film drags and is acted with minimal flair--- there is very little character development, and most of the film is either someone smoking or long shots of the surroundings...the story supposedly covers about 11 years, but the pacing makes it seem like a couple generations. In my opinion this film is not worth all the praise it has received--- it does not entertain, and the message it conveys could have been delivered in a film half the time with greater effect. See 'luxury car' or 'lost in beijing' and you will pretty much get the same benefit, and enjoy watching the movie in the process:)

Flamboyant project by a modernist of the Chinese avant-garde.Epic in scale and thrilling in craving proportions,I present you the end of youth,the ostentatuous pop art and the remnants.Yes,it can happen in the best of families.
See Details