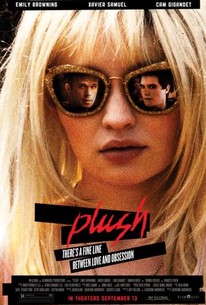 Plush
2013, Mystery & thriller, 1h 39m
6 Reviews
500+ Ratings
Rate And Review
Movie Info
A woman (Emily Browning) welcomes a new guitarist (Xavier Samuel) into her rock band, but his dark nature threatens those closest to her.
Audience Reviews for Plush
Emily Browning stars in Plush, a psychological thriller from writer/director Catherine Hardwicke. In this tale of obsession the lead singer of a rock band has an affair with her lead guitarist, but when he starts to intrude on her home life she tries to end things. Browning gives a strong performance and proves to be a talented singer as well. But the story is pretty formulaic and telegraphs itself at every turn. Yet despite its unoriginality, Plush still manages to deliver some tense and suspenseful moments.

I am always open for any suggestions, and when one of my younger friends recommended this erotic thriller directed by Catherine Hardwicke and co-written by Arty Nelson with music by Nick Launay & Ming Vauze, I thought I'll give it a go. Especially when I saw that the film stars Emily Browning, and Xavier Samuel... Cam Gigandet, Dawn Olivieri, Thomas Dekker, and Frances Fisher were less important for the decision to watch it. The beginning of the movie looked promising with the excellent photography and very strong music back up... but very soon I understood that was the best part of the film! Brother - sister singing combination was great until the brother died from overdose. After losing him, rising rock star Hayley finds herself in a downward spiral. The second album from her band Plush is disastrous and had nothing good written about it by the critics. Of course, there is a new guy and she finds new hope and friendship in Enzo, the replacement guitarist who inspires her to reach new creative heights. Sadly, their collaboration crosses the line sexually and Hayley, who is married with two children, tries to retreat from Enzo's advances. Because of that, Hayley will soon discovers Enzo's dark and troubled history... it was almost too late when she realizes she may have let a madman into her home and that her mistake may cost the lives of people closest to her. What I think about this movie after watching it? I wish, I could do something better with my time. I do not think that anyone involved in this movie was committed fully and followed through with the courage of its convictions, with, maybe, exception of the director of photography Daniel Moder. It was watchable, but the twists were quite annoying and didn't leave any impression. No feelings, no passion, no real skill for story detailing... on the other hand, the details of the cinematography were overwhelming, so the story and the cinematography were in odds most of the time. Watch only if you run out of movies and there is a long night ahead!

Without the talented Emily Browning, "Plush" would almost be unwatchable. But with her innocent style mixed with the precarious nature of her character, she becomes the focal point of this feature as Hayley, the rockstar that loses her brother/bandmate to drugs. Following a poorly received second album, Hayley begins an intimate connection with her new guitarist Enzo (Xavier Samuel) rather than being at home with her husband (Cam Gigandet) and her son. This connection slowly turns obsessive as Enzo reveals himself to be more than Hayley bargained for and the thriller portion of the film ensues. "Plush" is not as much predictable as it is dull and anti-climatic, begging for the "dun-dun-dun" of a hokey horror score. Browning is the glue that holds this film together, keeping the viewer invested just to see her losing herself in the character and leaving all inhibitions at the door. She's a bright young actress that deserves much more than she's given yet continues to surprise through every bad role and B-rated movie.
See Details