Pocket Money
(1999)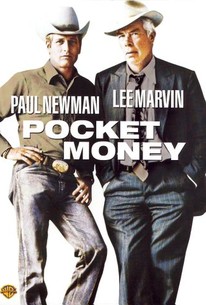 Movie Info
Two modern day cowboys smuggle a herd of cows across the border in this loosely amiable comedy. Jim Kane (Paul Newman) is a cowboy who unexpectedly finds himself deep in debt and in need of some fast cash. A less-than-scrupulous businessman approaches Kane and offers him a handsome payday to escort 200 head of cattle from Mexico into the United States for use of the rodeo circuit. While the deal seems dubious, Kane goes along with it, and persuades his friend Leonard (Lee Marvin) to tag along. However, the cattle drive proves to be more of a challenge than the men expected, with a number of less-than-welcome adventures following the cattlemen along the way. Pocket Money also features Strother Martin, Hector Elizondo and Wayne Rogers; keep an eye peeled for a cameo appearance by Terrence Malick, who wrote the film's screenplay years before directing the acclaimed Badlands and Days of Heaven.
Critic Reviews for Pocket Money
Audience Reviews for Pocket Money
½
Pocket Money (1972) -- [5.0] -- Paul Newman teams up with Lee Marvin to deliver cattle from Mexico to a shady dealer played by Strother Martin. Newman and Martin are re-teamed here with "Cool Hand Luke" director Stuart Rosenberg, with a script adapted by Terrence Malick (Badlands, The Thin Red Line). Despite the ingredients, "Pocket Money" doesn't amount to much. For a buddy picture, Newman and Marvin don't leave much of an impression. Marvin almost works as the boozing happy-go-lucky sort, but Newman is less convincing as a kind-hearted dim wit. Even Martin is oddly restrained here, at a time when you really just want to see him embrace a role of villainy. Maybe the problem is in the source novel or Malick's adaptation, but "Pocket Money" is slow to rev up and ends up going nowhere.
Scott Schirmer
Whether you're a huge fan of both Paul Newman and Lee Marvin (as I am) or not, BOY, are you EVER in for a MAJOR disappointment. And the fact that the legendary Terrence Malick penned the script only adds even more to the pain. I suppose this movie was trying to be a comedy, but it's a bigger downer than a tub of sedatives. The story, such as it is, concerns a loser, low-brow cowpoke played by Newman. He's behind on his mortgage and his alimony with his latest round-up of horses stuck in a 60 day quarantine before he can sell them. He teams up with Lee Marvin, who gives his most comatose performance ever, (And, yes, I DID suffer through Marvin's work in "Delta Force". This is worse.) to buy some cattle for a couple of con men played by Strother Martin and Wayne Rogers (MASH's fave libertarian.) This "story" winds up being the most boring cattle drive in movie history. You suspect that the steers themselves are asleep in half the scenes. Bottom Line: They suspect they're going to get swindled. And they get swindled. The End. Thanks for coming, folks, and drive home safely. Thankfully, Newman followed up this turkey with "The Sting" and Marvin followed it up with "Emperor of the North". Proving once again, that, despite the occasional bomb, you just can't keep a great actor down. So, please see those movies instead. In the meantime, feel free to waste your time on this picture if the names involved draw you to it. But, don't say I didn't warn you.
Richard Smolnicky
Sean Gillespie
Super Reviewer
Pocket Money Quotes
There are no approved quotes yet for this movie.
Discussion Forum
Discuss Pocket Money on our Movie forum!