Politist, adj. (Police, Adjective)
(2009)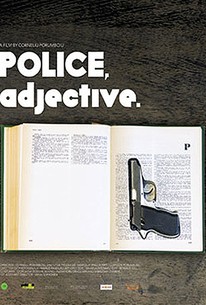 Politist, adj. (Police, Adjective) Photos
Movie Info
A cop finds himself growing uncomfortable with his latest assignment in this study in the nature of power and authority from Romanian director Corneliu Porumboiu. Cristi (Dragos Bucur) is a seasoned police detective who has just gotten married to Anca (Irina Saulescu) and wants to keep his superiors happy. Cristi's boss, Nelu (Ion Stoica), has ordered the detective to keep a close watch on Victor (Radu Costin), a teenager who is suspected of dealing drugs for a local cartel. Cristi has spent several weeks following Victor's actions and is certain that the kid smokes marijuana with his friends, but isn't any kind of drug pusher and should be left alone. Cristi is also aware that Romanian authorities are expected to relax their laws regarding drugs in the near future, making it all but pointless to possibly ruin Victor's life by bringing him in, but while Nelu understands Cristi's thinking, he's not so willing to let the youngster off so easily. Politist, Adj. (aka Police, Adjective) was an official selection at the 2009 Cannes Film Festival.
News & Interviews for Politist, adj. (Police, Adjective)
Critic Reviews for Politist, adj. (Police, Adjective)
Audience Reviews for Politist, adj. (Police, Adjective)
½
This Romanian film is definitely not for everyone, considering its peculiar directing style and sluggishly slow pace, but those willing to sit through it will find a thought-provoking and morally challenging narrative with a particularly outstanding final act.
Carlos Magalhães
Super Reviewer
A world weary Romanian cop tails some poor schmuck of a kid who's out smoking hash with his friends: should his bust the lump, or try to nail his supplier? But if he does it, the kid's life is in the crapper ... what to do, what to do? But this is only one problem in the cop's life. His wife is getting restless. Her husband doesn't seem to care about things, the important things, like about words and their meanings and how that intersects with our lives. You may decide, like the cop, to exclaim, "who thinks about this stuff?!? Who's got the time?!?" Or, you may give this slow simmer of a tale a chance to steep.
Kevin M. Williams
Super Reviewer
½
Definition of 'slow' (don't watch this if your sleepy), earnest, European arthouse indulgence. Certainly puts across the tedium of police work with langorous passages where we watch, wait and walk with the characters.
Gordon Anderson
Super Reviewer
Politist, adj. (Police, Adjective) Quotes
There are no approved quotes yet for this movie.