Porn Star: The Legend of Ron Jeremy
(2001)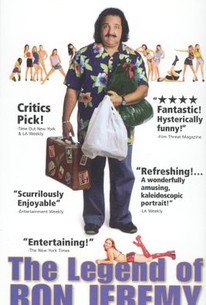 Movie Info
In 1978, Ron Hyatt was a special education teacher who, like many people, dreamed of some day becoming an actor. One day, Ron's girlfriend sent a nude photo of him on a whim to Playgirl magazine, who published it as part of their "Boy Next Door" feature; before long, Ron was asked to appear in a hardcore pornographic movie, and thus was the beginning of the career of Ron Jeremy, one of biggest and least-likely male stars in the adult film industry. Short, pudgy, and possessing an excess of body hair, Jeremy hardly looks like anyone's idea of a sex-show stud, but Jeremy's charm, intelligence, self-effacing good humor, and professional attitude in a business where such focus is rare made him the best-known man in porn, starring in literally hundreds of adult films and eventually breaking through to bit parts and cameo roles in mainstream features. Porn Star: The Legend of Ron Jeremy is a feature- length documentary that offers an inside look at Ron Jeremy's life and career, including interviews with his friends, co-workers, and family; the film won the Audience Award for Best Documentary at the 2001 No Dance Film Festival.
Critic Reviews for Porn Star: The Legend of Ron Jeremy
Audience Reviews for Porn Star: The Legend of Ron Jeremy
Ron Jeremy is an icon in the Adult film industry. This documentary tells his story and with a string of interviews from his peers to fans of his work, we get an in depth look at the Hedgehog. The documentary is interesting, but is a bit too short considering its subject. For what it is, this film will surely appeal to fans of Ron Jeremy, but for the typical viewer like me, it's really a mixed bag. The film manages to be insightful, but leaves a lot to desired. Director Scott J. Gill explores the man and how an average looking guy became one of the biggest icons of the Adult industry. It's entertaining for what it is, but it's nothing remarkable and memorable in the long run. Also the film shows the ugly side of the industry, the sleaziness of it all. However Ron Jeremy despite his choice of career is well educated, and when you see him in interviews you he's a much more thorough speaker than your standard actor in that business. The guy is smart for sure, and unlike most of the actors in the bizz he comes from a good background. This documentary has multiple interviews, scenes from his greatest films and his tells the story of his rise in adult films. However it could have been better and it just an average documentary in the long run. Despite the flaws, fans of Ron Jeremy should check this title out, and will most likely enjoy it. But as a whole it could have been much better than what it turned out to be.
½
Ron Jeremy is widely recognized, well-hung, tightfisted with money and still unmarried. He has sex on camera, loves food, gets monthly AIDS tests, has a supportive Jewish family, craves mainstream success, travels a lot and has the craziest phone book you've ever seen. Got it? This documentary tries a little too hard to be light and fun, when there is plenty of edgier material that could have been explored. For a documentary about a veteran porn actor, the film is strangely unprovocative. The most useful things I took away were the slang meaning of "woodsman" and my discovery that Ron has a Masters degree in special education. I saw him outside the Hustler store on Sunset Boulevard once...if I had known he loved attention so much, I might have said hello.
Eric Broome
Super Reviewer
Whitewashing of Jeremy's shady career. Apparently this guy is not the lovable hedgehog he's portrayed as here if you read anything serious about him (Cinema Sewer has an interesting article on his multiple rape accusations). It's sad how desperately this film and Jeremy himself want to make him a pop culture phenomenom.
Christopher Brown
Super Reviewer
Porn Star: The Legend of Ron Jeremy Quotes
There are no approved quotes yet for this movie.