Port of Call
(1948)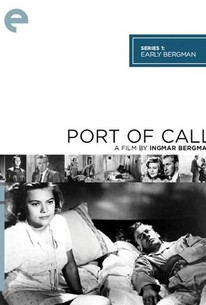 Movie Info
Swedish filmmaker Ingmar Bergman seldom had much to say concerning his early feature Port of Call (Hamnstad), perhaps because of the film's unsatisfying shift of tone from grim to upbeat towards the climax (one gets the feeling that this was dictated by Bergman's financiers). Still, this stark tale of the waterfront contains several elements that would come to full fruition in Bergman's later works, notably the troublesome necessity to break away from tradition. The story involves a romance between dockhand Ivine-Christine Jonsson and ex-prostitute Bengt Eklund, and the problems faced by Jonsson in coming to grips with his own puritanical attitudes concerning his beloved's past. While the ending is technically "happy," it is clear that the problems are not completely resolved, and we are invited to speculate on the couple's future. Port of Call would not be released in the US until 1960, after Bergman's reputation had been affirmed by such classics as The Seventh Seal and Wild Strawberries.
Critic Reviews for Port of Call
Audience Reviews for Port of Call
½
Full Review Coming Soon!
Chris Browning
Super Reviewer
this was really 3/4 of a great film. i was interested in the characters and the visuals were great as this was the first collaboration between bergman and gunnar, but the end lost focus a bit. overall a realist human drama worthy of viewing.
½
An early film from Ingmar Bergman, it is just as interesting on a visual scope as his films usually are, with the docklands filmed well and good use of panning and dolly work throughout. In terms of story and acting though, this is rather ordinary stuff, despite some interesting ideas and philosophies about freedom. It seems the easy way to out to just classify this film as interesting but not up to the standard that Bergman would later set, however I cannot think of much else to say here. It certainly is not as thought-provoking and intense as some of his later films, and for those not interested in Bergman or clever camera movement, I could easily imagine this piece coming across as boring.
Cassandra Maples
Super Reviewer
Port of Call Quotes
There are no approved quotes yet for this movie.