Possible Worlds
(2000)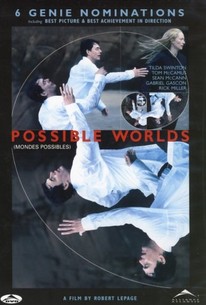 Movie Info
A man moves across space and time to do the right thing for the woman he loves in this sci-fi-tinged fantasy thriller. George (Tom McCamus) is a man who possesses an unusual level of awareness -- he not only understands that people exist in parallel worlds at once, but also is able to experience several of his alternate lives at once, even remembering what happened on one plane of existence while functioning in another. This is as much of a curse as a blessing for George; his wife Joyce (Tilda Swinton) was murdered in one life, and he finds himself thrown from one life to another, in which he encounters Joyce's other lives while he searches for her killer. As we're introduced to George, he's been murdered and his brain has been removed from his body; Berkley (Sean McCann), a veteran police detective, is assigned to investigate the killing with his less experienced partner, Williams (Rick Miller). Berkley and Williams are eventually led to a laboratory run by an eccentric scientist who performs odd experiments on animal brains and studies the effects of sensory deprivation. Meanwhile, George still lives in another parallel world, where he meets Joyce again -- not once, but twice. Possible Worlds was based on the play by John Mighton, who also wrote the film's screenplay.
Critic Reviews for Possible Worlds
All Critics (5) | Top Critics (1) | Fresh (3) | Rotten (2)
In short, Lepage's film suffers from being dry - both in terms of character and subject matter. It remains a watchable and interesting work, yet I see the film more as what could have been rather than what it turned out to be.
Audience Reviews for Possible Worlds
An interesting premise which didn't quite fulfil its intentions. The acting was quite stony from the two (although I'm not sure if that was intentional or not) however the doctor gave a good performance even though I knew it was him from the moment he was introduced. By the end I was just left mostly confused. There was some good bits for example, him emerging from water or it raining a lot to suggest his brain was in the water jar but other than that there wasn't anything else very noteworthy.
Sophie Burgess
Super Reviewer
Possible Worlds Quotes
There are no approved quotes yet for this movie.