Powaqqatsi
(1988)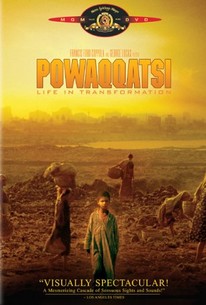 Movie Info
Powaqqatsi was the second of the feature-length "non narrative" films produced, directed and co-scripted by Godfrey Reggio. As in his earlier Koyaanisqatsi, Reggio utilizes a collage of sounds and gimmicked-up images to make a comment on modern life. And as in the earlier film, Reggio's onslaught of imagery is backed up by the music of Philip Glass. This time, Reggio concentrates on Third World cultures, and the way those cultures are perceived and sometimes exploited by the power merchants of the world. Powaqqatsi was supposed to be the second in a trilogy, but wasn't as eagerly embraced by viewers and critics as its popular predecessor.
Critic Reviews for Powaqqatsi
Audience Reviews for Powaqqatsi
Disappointing sequel to Koyaanisqatsi. The focus has shifted away from the marvellous wonders of Planet Earth and onto life in developing nations. Although a worthy, interesting portrait it doesn't capture my imagination nor hold my attention anywhere near as well its predecessor. The music is rather irritating too!
Ross Collins
Super Reviewer
This movie is more personable than its predecessor Koyaanisqatsi. The music is tribal and danceable at some parts. It had people in motion with nature; I won't say I understood what it all meant.
Lafe Fredbjornson
Super Reviewer
Powaqqatsi Quotes
There are no approved quotes yet for this movie.