The President's Analyst
(1967)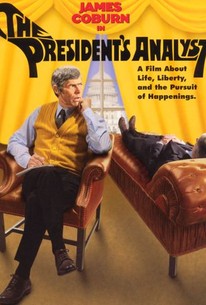 Movie Info
The President's Analyst is James Coburn, whose position makes him privy to any number of delicate government secrets. Thus Coburn becomes a most desirable prize for several secret-agent organizations, including the CEA and the FBR (we know who these folks are really supposed to be, even though the phony names were crudely dubbed onto the soundtrack after the film was completed). When Coburn becomes expendable, he finds a pair of strong allies in the form of likeable political assassin Godfrey Cambridge and gay Soviet spy Severn Darden. The main plot involves an insidious, unnamed concern that wishes to harness Coburn's talents in order to brainwash the president -- and everyone else in America -- into submission. The President's Analyst is a terrific, on-target satire of virtually every sacred cow of the late 1960s; the satire was so potent, in fact, that when the NBC network broadcast the film in the early 1970s, it was compelled to remove the picture's punchline.
Critic Reviews for The President's Analyst
Audience Reviews for The President's Analyst
½
This is one of the weirdest movies I've ever seen. I thought it was gonna be like 60s comedy cute but instead it's 60s psycho insanity which starts out as like a guy who gets hired to be the president's psychiatrist and then quickly dissolves into like spy vs spy paranoia and new jersey karate housewife and CIA kid and hippie van and LSD orgy and then like the ultimate bad guy beyond the russians or the chinese is like................. well, I don't want to spoil it but basically the movie ends in a spaceship shoot out. So many mixed messages about politics and surveillance and drugs and psychoanalysis. I feel like they shot Casino Royale and then they were like lets just reuse these sets. Get James Coburn in here. I'm shocked this got made. A+ would watch again.
Jenna Ipcar
This is such a great wacky adventure comedy movie, it's really different too, and I loved the crazy ending. I highly recommend it.
"In every country I've ever gone, people hate the phone company!" -- Russian spy Very funny and at times silly comedy about what befalls James Coburn once he thinks he's landed a dream job by becoming the President's personal shrink. But it turns out that many factions would be very interested in the secret thoughts of the leader of the free world! Coburn is very loose as the title character who grows increasingly paranoid about his position and becomes the target of an international manhunt. A whole lot of lampooning gets thrown into the mix, from psychiatrists, hippies, gun fanatics, government, bureaucracy, and yes, the phone company.
Doctor Strangeblog
Super Reviewer
The President's Analyst Quotes
There are no approved quotes yet for this movie.
Discussion Forum
Discuss The President's Analyst on our Movie forum!