Princess Ka'iulani
(2010)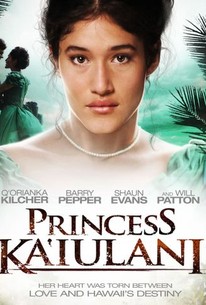 TOMATOMETER
AUDIENCE SCORE
Critic Consensus: A middling biopic about an important figure in Hawaiian history, Princes Kaiulani looks and feels like a TV movie of the week and offers about as much insight.
Princess Ka'iulani Photos
Movie Info
The incredible true story of Hawaiian princess Ka'iulani (Q'orianka Kilcher) comes to the screen in this historical drama from first time writer/director Marc Forby. The year is 1888; a rebel alliance with connections to the American government has succeeded in destabilizing Hawaii. When the fight comes to the royal palace, 13-year-old heir to the throne Princess Ka'iulani is spirited away to Victorian England -- where her royalty holds no bearing on her social standing. As Princess Ka'iulani struggles to adapt to her new surroundings, she finds herself falling in love with handsome, rebellious young Englishman Clive Davies (Shaun Evans). Four years later, the princess receives word that the queen has been incarcerated, and the monarch has fallen. In time Princess Ka'iulani realizes that in order to save her people she must give up her romance with Clive, and travel to America in order to speak with President Grover Cleveland. Convinced that she can restore her kingdom by proving to the Americans that her people are not the savage barbarians that the press portrays them to be, the princess makes her way to the United States and wages a valiant fight against the grave injustices being inflicted upon native Hawaiians.
News & Interviews for Princess Ka'iulani
Critic Reviews for Princess Ka'iulani
Audience Reviews for Princess Ka'iulani
I never turn off a movie, and I turned this one off. The first half-hour was excruciating, cramming all kinds of backstory into some of the deadest dialogue I've ever heard, and I just couldn't get past it. [Rating on full viewing pending... unlikely to ever be achieved.]
Daniel Perry
Super Reviewer
A great film telling you the history of Hawaii. This film brought to light much of what I have never known. And like the natives of America, the natives of Hawaii succumbed to greed and white rule. Ensure that you read post subtitles telling you what happen to the princess. This is well worth the watch on one of those alone nights when your not sure of the mood your in or what you want to watch. 4 stars
Bruce Bruce
Super Reviewer
Any movie that helps educate folks about the overthrow of Hawai'i is useful. The production values are good, as is the acting. But it devotes far too little time to the political and social upheavals of the times, and far too much to a love story that has questionable historical accuracy; even if it had happened that way, there's no good reason to make a movie about it. The documentary special feature tacked on is more accurate and more interesting.
Cynthia S.
Super Reviewer
Princess Ka'iulani Quotes
There are no approved quotes yet for this movie.