Project Grizzly
(1997)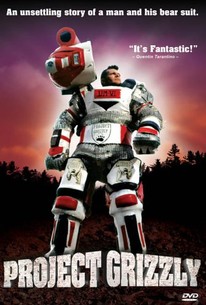 AUDIENCE SCORE
Critic Consensus: No consensus yet.
Movie Info
Troy Hurtubise is obsessed with grizzly bears and nothing makes him happier than to be facing one down. But though Hurtubise may be a tad eccentric, he is not suicidal (whether or not he is a fool is left to the viewer's discretion) and so he has devised an amazing suit of flexible armor capable of withstanding unbelievable abuse. This Canadian documentary, follows Hurtubise's odd obsession and the many travails he endured while perfecting his amazing protective suit. Though laced with humor often at the bear man's expense, the subject is a real person and his absurd tests really occurred. ~ Sandra Brennan, Rovi
Critic Reviews for Project Grizzly
Audience Reviews for Project Grizzly
So we have lots of build up and no conclusion. Lynch who is a great documentary producer lets his subject off the hook. Doesn't the idea of developing a suit to ward off grizzlies require testing against actual grizzlies? A film that leaves you hanging.
John Ballantine
Super Reviewer
Project Grizzly had it's moments, but it sorely needing footage of the suit in action against a bear.
Ken Stachnik
Super Reviewer
As many have noted, this film is not about a man fighting a grizzly bear, despite what the pitch would seem to promise. It's about a man eccentric enough to build a suit for a rematch against a bear that once pushed him over. In other words, it's about a fucking egotistical moron with too much time and money on his hands and a documentary crew giving us the most boring version. It's Moby Dick for rednecks and this time there is no climax. Troy talks about his knives, his father and rambles almost incoherently about an encounter with a bear. He makes a number of suits and there are some funny Jackass like test runs. Had the documentary explored more of the mans psychosis (like the incredible Grizzly Man) it would be of some interest, instead it pats Troy on the head to elicit cheap laughs. You're better off going elsewhere for more intelligent and well constructed documentaries.
Luke Baldock
Super Reviewer
Project Grizzly Quotes
There are no approved quotes yet for this movie.