Public Access
(1993)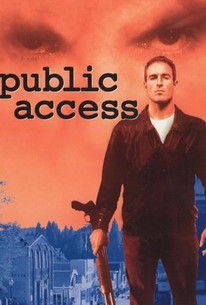 Movie Info
Before making their Oscar-winning film The Usual Suspects, director Bryan Singer and writer Christopher McQuarrie made their first film -- this low-budget independent feature and Grand Jury Prize winner at the 1993 Sundance Film Festival. Public Access examines the power and dangers of mass media consumption upon a small-town community. Ron Marquette plays Whiley Pritcher, a stranger in the small community of Brewster, who lands a job as the host of a local public access call-in show. On his program he asks the simple question "What's wrong with Brewster?" and gets all manner of call-in complaints -- from discrimination at the school to political corruption at the town hall. Soon, Whiley becomes a local celebrity and an arbiter of public opinion. As his power grows, he makes a pact with Bob Hodges (Burt Williams), Brewster's mayor, and begins an affair with Rachel (Dina Brooks), the town librarian.
News & Interviews for Public Access
Critic Reviews for Public Access
Audience Reviews for Public Access
In 1995, director Bryan Singer delivered one of the finest crime films - not too mention one of cinema's killer twists - in "The Usual Suspects". Before that, he cut his teeth on this low-budget, independant suspense tale. Whiley Pritcher (Ron Marquette) is an enigmatic stranger who arrives in the small American town of 'Brewster' and starts up a public television show asking the local residents "what's wrong with Brewster?" Not before long, the residents are all calling in, revealing secrets about their neighbours and causing dark fueds, in this once idyllic town. Although this film was done in the early 90's it has a very dated 80's look to it. Despite this, you can still see the early promise from Bryan Singer. It's competantly shot and achieves quite an eerie feel to the whole thing. This little tale would have made a great Twilight Zone episode but as a feature length film, it doesn't quite have enough in the tank for it to hold your interest over a short but somehow protracted 87mins running time. Amature acting is a major letdown also but it's always interesting to see where a career began and Singer certainly shows flourishes of his crime classic to come. It builds slowly and assuredly and it's intriguing premise draws you in, but it ultimately loses it's way and ends with a wimper.
Mark Walker
Super Reviewer
Public Access Quotes
There are no approved quotes yet for this movie.