Pulling Strings
(2013)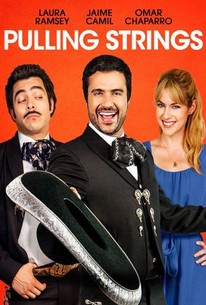 Movie Info
Rachel is an intelligent modern day woman constantly on the move. Primarily focused on her career as a diplomatic consul for the U.S. embassy, she's literally lived her life on the move, globetrotting from city to city. Currently working in Mexico City and set to leave for London, Rachel's world turns upside down on the eve of her own goodbye party when she gets drunk and passes out on the street. Saved by Alejandro, a handsome Mariachi singer and single father, Rachel wakes up in his apartment with no recollection of how she got there. Nor does she remember that she rejected his visa the day before, which he desperately needs for his daughter. Romance unexpectedly blossoms between the two, but either sparks or fists will fly after she finds out his secret.
Critic Reviews for Pulling Strings
Audience Reviews for Pulling Strings
Not even my crush on Jaime Camil could really save this one, though that's not to say it was unenjoyable... If you're looking for a romantic comedy with an attractive male lead interested in a woman who at least cares about more than just romance you won't be disappointed at least. Unfortunately everybody but the male lead comes across as pretty flat and emotionless, Rachael could have been interesting but everybody around her is so one dimensional it takes away from her. Anyhow, I don't know, it's fairly run of the mill if not forgettable. If it had been more romantic or perhaps funnier, or you know what, just less cliche (re: single dad who can't raise a kid on his own without a 'woman's touch,' busy-business woman who can't see anything beyond business, gangster who is owed money, child who is totally content with whatever, hijinks from the bumbling friends, inevitable romance despite shady circumstances...etc), it might have actually shined.
Jenna Ipcar
Pulling Strings is a decent Mexican film that has a lot going for it but never maximizes on its full potential. Jamie Camil gives a great performance but the film never really grabs any heart strings or connects on any type of emotional level with the viewer. A shame as the potential for a great comedy or even a good romance was there.
Jonathan Porras
Thoroughly enjoyed. Being first generation Mexican American and bilingual, it made it easier to follow and understand cultural references. many funny and touching moments. Might have done better if there was better chemistry between the main characters, but otherwise the cat was great. Ending could have been better executed.
Georgina Becerra
Pulling Strings Quotes
There are no approved quotes yet for this movie.
Discussion Forum
Discuss Pulling Strings on our Movie forum!