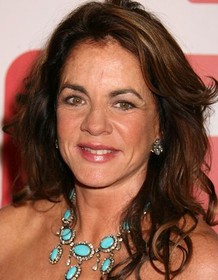 Stockard Channing
Highest Rated: 94% Home of the Brave (2004)
Lowest Rated: 9% Meet the Applegates (1990)
Birthday: Feb 13, 1944
Birthplace: New York, New York, USA
Actress Stockard Channing's deceptively uneven film résumé belied the award-winning performer's exceptionally prolific and successful career on both stage and television. After a few brief appearances in feature films, Channing won what should have been the role of a lifetime opposite movie icons Warren Beatty and Jack Nicholson in the Mike Nichols comedy "The Fortune" (1975). But when that film - as well as the next few she appeared in - were commercial busts, her nascent movie career was already in decline. That is, until Channing was cast in the role of the bad-girl with a heart-of-gold, Rizzo, in the smash musical "Grease" (1978). The rollercoaster ride continued, however, when two television series met ignominious ends, and feature efforts like "The Fish That Saved Pittsburgh" (1979) were met with disdain. It was at this point that Channing returned to the stage and enjoyed a series of indisputable successes, with turns in "A Day in the Death of Joe Egg" in 1985, for which she won a Tony Award. Channing was also nominated for an Academy Award for her role in the film "Six Degrees of Separation" (1993), an adaptation of the play she had starred in three years prior. More recognition came Channing's way when she played First Lady Abigail Bartlet to Martin Sheen's U.S. President on the hit political drama "The West Wing" (NBC, 1999-2006). The actresses' initial appearance on the show proved so popular that producers quickly added her to the regular cast. It was a wise decision, as Channing went on to receive several Emmy nominations for the role, winning in 2002. As the decade drew to a close, Channing remained one of the most active - and most welcome - presences in film and on stage and television.
Photos
THE BIG BUS, Joseph Bologna, Stockard Channing, 1976
MARRIED TO IT, Mary Stuart Masterson, Cybill Shepherd, Robert Sean Leonard, Ron Silver, Stockard Channing, Beau Bridges, 1991, (c) Orion
THE FISH THAT SAVED PITTSBURGH, Stockard Channing, 1979, (c) United Artists
THE FORTUNE, Stockard Channing, 1975
THE FORTUNE, Stockard Channing, 1975
GREASE, Stockard Channing, 1978, ©Paramount Pictures.
STAYING TOGETHER, from left: Tim Quill, Stockard Channing, 1989, © Hemdale
SIX DEGREES OF SEPARATION, Will Smith, Donald Sutherland, Stockard Channing, 1993, (c) MGM
SWEET REVENGE, Stockard Channing, Sam Waterston, 1977
TWILIGHT, Stockard Channing, 1998, (c) Paramount
SIX DEGREES OF SEPARATION, Will Smith, Stockard Channing, 1993, candle
SWEET REVENGE, Sam Waterston, Stockard Channing, 1977
SIX DEGREES OF SEPARATION, Stockard Channing, Donald Sutherland, Will Smith, 1993, greeting
SMOKE, Stockard Channing, 1995
THE BIG BUS, John Beck, Stockard Channing, Joseph Bologna, 1976
THE FORTUNE, Warren Beatty, Stockard Channing, Jack Nicholson, 1975
THE FORTUNE, Warren Beatty, Stockard Channing, Jack Nicholson, 1975
THE FORTUNE, from left: Jack Nicholson, Stockard Channing, 1975
SMOKE, Stockard Channing, Harvey Keitel, 1995
THE BIG BUS, Stockard Channing, John Beck, 1976